Beginning with the Fall 2011 collection, the McQ contemporary line will come under the complete control of Alexander McQueen, which is enjoying wild success following Sarah Burton's first womenswear line at Paris Fasion Week.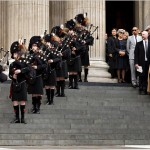 St. Paul's Cathedral in London hosted a special memorial service this morning honoring the late Lee Alexander McQueen. Less than one year after the British designer's tragic death, attendees mourned his loss to the sounds of tartan-clad Scottish bagpipers and a moving address given by Anna Wintour.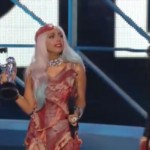 We love Lady Gaga. Like, Goddess worship, crazy fan-boy, girl crush love her. And part of that love comes from a fascination with and delight in almost everything she wears. We thought she had long passed the point of shocking the world with her fashion choices, but last night we were shocked, and no, not by the meat dress. Actually, raw meat was the least surprising thing she wore.
Plus sized shoppers have been trying to let retailers know that an interest in designer clothes doesn't diminish relative to an increase in size for years. Now, it seems at least one has gotten a few high end fashion lines to listen up. Starting with this season's fall/winter collections, Saks Fifth Avenue will carry clothes from Chanel, Dolce & Gabbana, Yves Saint Laurent, Alexander McQueen, Fendi, Donna Karan, Valentino and Roberto Cavalli in size 14 – up to size 20 for some.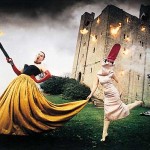 Daphne Guinness shocked fashion last month by stopping the sale of the collection from the late, iconic fashion editor Isabella Blow's wardrobe that was to be sold by the auction house Christie's. Guinness bought every piece herself to prevent the auction from even beginning. The newly announced muse for and face of Nars Cosmetics' fall campaign finally released a statement explaining her actions, how she came about her decision to stop Christie's and what she plans to do with her recently acquired fashion fortune.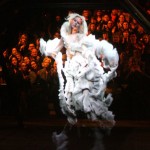 It seems Alexander McQueen's creative partner on his now infamous 2006 runway show, Baillie Walsh, has taken ideas used for that event and reworked them as central images in a current Cadbury ad campaign. The image in particular that has caused talk of legal action on behalf of the Gucci Group, who owns the Alexander McQueen brand, is that of a blonde woman in a flowing dress. For them the interpretation is too close for comfort to a hologram of Kate Moss which was shown during the aforementioned show in 2006.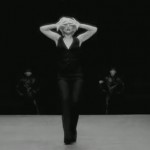 After lots of "leaks" Lady Gaga finally released the full version of her video for the song Alejandro on Tuesday.
Not everyone is a fan though. Katy Perry, who prefers crazy wigs and controversial outfits of a less religious variety tweeted "using blasphemy as entertainment is as cheap as a comedian telling a fart joke." And like much of Madonna's early work, we're pretty sure a condemnation from the Catholic church isn't too far around the corner.
If your religion is fashion, read on for information on the video's most prominent fashion players.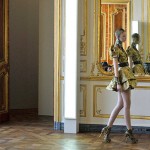 By now, most people are aware of the sad, untimely death of Alexander McQueen. When the Gucci Group, the parent company of the Alexander McQueen label, formally announced that the brand would continue much of the speculation turned to which designer would have the tailoring chops and creative sensibilities to carry the label forward.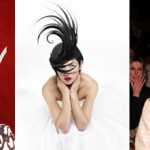 This month marks three years since fashion icon Isabella Blow committed suicide following a battle with depression and ovarian cancer, but the infamous editor, known for championing milliner Philip Treacy and Alexander McQueen in his early career, has been making multiple headlines recently.