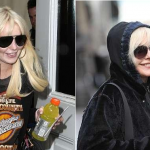 While Blondie singer Debbie Harry looks great for a 60-something woman, it doesn't say much for Lindsay Lohan's current appearance that paparazzi mistook a woman more than 40 years her senior for the 25 year old actress.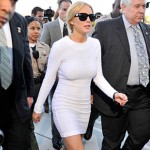 Lindsay Lohan and courtroom controversy is nothing new, but her latest appearance proves someone out there is still inspired by the troubled entertainer – or so someone would have you believe.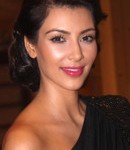 With millions of followers, stars like Kim Kardashian and big name brands like Reebok are making big bucks using Twitter as a means of advertising. It has been widely rumored that endorsement deals between businesses and celebrities actually contractually stipulate a certain number of product-related tweets per day.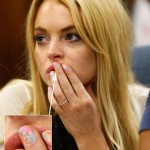 So you know by now that Lindsay Lohan is going to jail, then rehab. Understandably, the leggings designer wasn't pleased at being punished for missing court ordered alcohol classes.
"It's been such a long haul. … I don't want you to think that I don't respect you."
– Lindsay Lohan addressing Judge Marsha Revel
But her manicure suggests otherwise. With "fuck u" scrawled on top of her middle finger, Lohan seemed to be flipping the court off.
We'll have to wait for September to know for sure, but with her antics becoming increasingly irrational, and a court imposed time-out of 4-6 months, Lohan's 6126 fashion plans may join the growing list of personal failures.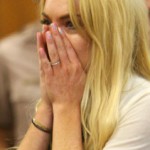 Dealing with all the trials and tribulations that come with being a Hollywood starlet, Lindsay Lohan has finally hit what many call rock bottom.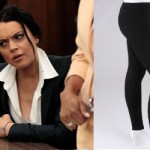 Lindsay Lohan, actress , sometime singer, legging designer and former fashion "creative adviser," will be accessorizing her looks for the foreseeable future with a court required SCRAM bracelet designed to model the troubled star's alcohol intake.
Perhaps those leggings with side zippers make a bit more sense now.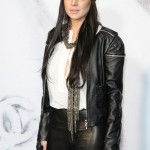 As you know by now, Lindsay Lohan has been relieved of her creative adviser duties for Emanuel Ungaro. While she may not have been cut out for a role in high fashion, the embattled actress already has her 6126 line of leggings which has held up pretty well despite her personal woes. Lindsay has expanded […]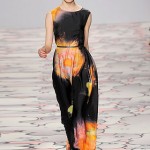 Rumors of Giles Deacon's lunch with Ungaro executives to discuss taking over the creative direction of the label are a mystery no more.
Fashionista reports that Jason Campbell, editor of the JC Report, has confirmed Deacon's new role at the label.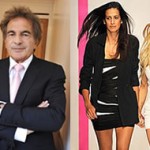 Mounir Moufarrige is now former CEO of Ungaro. Moufarrige made headlines when he appointed the troubled Lindsay Lohan to a role as creative adviser for the French fashion house. Emanuel Ungaro, founder of the eponymous label, has not been involved in design since 2005, but recently voiced his displeasure calling the Lohan helmed collection a […]