In a move somewhere on par with rearranging the deck chairs as the Titanic sinks, UK Prime Minister David Cameron has floated the idea of banning people suspected of organizing or participating in the London riots from social media. Since having more police than rioters is an idea that didn't occur to anyone until four days of disorder and destruction had passed, and it's easier to blame BlackBerry.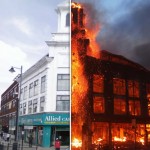 Four days after the initial incident that sparked unrest in London, there still appears to be no definitive end to the organized violence. Some blame BlackBerry BBMs and Twitter for facilitating the organization of riots and looting, but regardless of the communication tools used to communicate, London faces a bigger problem: police can't figure out how to quell outbursts of violence and stop them from spreading. That doesn't lend a lot of confidence to the city's ability to ensure safety for the 2012 Olympics.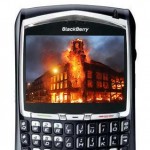 While analysts are predicting the imminent death of BlackBerry as Android and the iPhone battle it out for the title of the top smartphone, the phone that initially gained popularity among corporate users may be finding a new following among London youth.