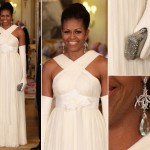 While many people have said that the daytime ensemble Michelle Obama wore when meeting Prince William and the Duchess of Cambridge (Kate Middleton, if you're on friendlier terms) wasn't her strongest, we're head over heels in love with her look for the later state dinner at Buckingham Palace.
This is normally Fug Girls territory, but as we were browsing through the myriad of Met Gala photos, a few stopped us in our clicks as we let out an audible WTF? (why that frock? if we're keeping this family friendly). Given the sheer number of times that it happened, we're pretty sure Heather and Jessica (the girls) are going to be busy for a while, so we'll go ahead and make our own compilation of the top 9 WTF? moments from this year's Met Costume Institute Gala.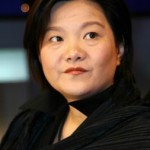 The Time 100, Time magazine's annual list of the most influential people of the world, is out and everyone has noticed that Tom Ford is one of the few influencers from the world of fashion on the list. For US readers he may be the most recognizable, but considering the global nature of the article he's not the only one.
After 10 years at the helm of Vogue Paris/French Vogue, Carine Roitfeld announced that she'll be leaving the magazine in January.
She spoke with Cathy Horyn and said "It's 10 years that I'm editor of the magazine. I think it's time to do something different."
If you've got grey hair but no money for a dye job, you've ever dreamed of channeling Erykah Badu, you have frequent bad hair days or you just really hate washing and or styling your hair, you can now take advantage of the latest hair trend.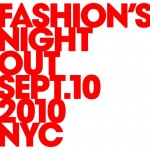 Last year we covered Fashion's Night Out from Paris, where we caught up with Carine Roitfeld, to London and New York. Each city was an overall success in terms of bringing out the shoppers, but the feel of each event was distinctly different. The Paris Fashion Celebration Night focused exclusively on the high end merchants [...]
Former Gucci/YSL creative director Tom Ford is known for bringing sexy back during the '90s, but he's well on his way to being recognized as a film director in his own right as well. For his debut film A Single Man, which showcases the chops of acting giants Colin Firth and Julianne Moore, Ford receives [...]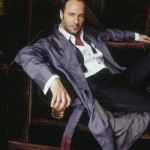 In an interview with WWD, Tom Ford confirmed that the $50 million ish in funding that Tom Ford International (via chairman and longtime business partner Domenico De Sole) was seeking earlier this year (so sparking twitters of excitement from fans (including us) hopeful that its intention were a Ford-lead re-launch) is indeed intended for his return [...]