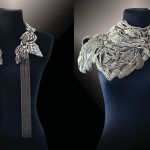 So you already know that big jewels will be the big thing for fall, right? Well when it comes to the pieces you decide to go big with, there's statement jewelry and then there's Bea Valdes. If we had to put Valdes' pieces into a category, we'd call them press conference jewelry because they're way beyond a simple statement. Which is good, because we literally didn't have the words to describe the collection when seeing it for the first time.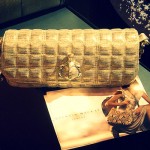 We told you about MZ Wallace's goal to become the fashionable woman's 2nd bag, and we continue our showroom highlights with a look at Quentin Mackay's luxe bags which are decidedly aiming for the 1st bag wardrobe position.
Mackay's shoulder bags may have tough looking hardware, but none of the bags feel heavy or seem to be weighed down by the fabrics or the details.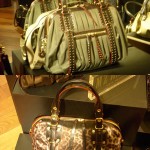 Though MZ Wallace has been around for ten years now, it's become pretty firmly established that even those who can afford the highest priced items, aren't lining up to buy them in the quantities they used to. With words like "classic," and "value" becoming more fashionable than "extravagant" and "luxury," the shift in consumer preference certainly can't hurt in the brand's quest to become the luxury lover's second bag.