Print Your Own Makeup? Mink Pitches 3D Printing for Beauty Pigments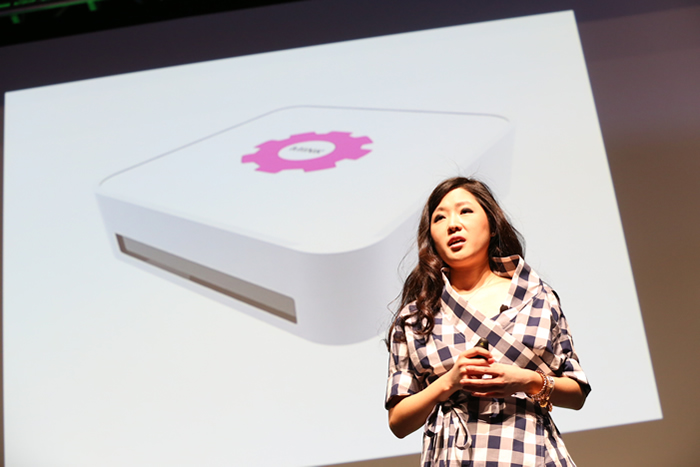 While the idea didn't take top prize at this year's TechCrunch Disrupt New York, the Mink printer could indeed be one of the most disruptive technology plays to come out of the conference. 3D printing is thought of most often for sculptures, jewelry, household items, and even clothing, but beauty is a multi-billion dollar market that was never seen as one to potentially be affected by the technology.
Founder Grace Choi envisions making a new eyeshadow or lipstick as simple as pulling a color's hex value, and clicking print. While this opens up a world of possibilities  for consumers, YouTube beauty vloggers (who already have considerable influence through demonstrations of purchased products) and the just plain adventurous makeup lovers who want green or blue lips like Rihanna, the printer seems like it would have potential with the drugstores selling standard cosmetics, and beauty companies as well.
Color is certainly an important part of makeup, but an equally important component are the base ingredients used. While pigments give a lipstick its color, it's other ingredients that determine if it's matte, shiny, sheer, frosted or creamy, and getting those right will likely take more than an ink cartridge.
With that in mind, drugstores with limited space to offer, and beauty brands with limited space to fill would likely jump at the opportunity to offer branded base ingredients, with consumer determined color selections. Not only could it become a leading indicator of color trends, but it would give brands a color selection just not possible in a brick and mortar beauty aisle, and drugstores something to do with the photo printing sections that still exist. Also, at a projected price of $300, the Mink may appeal to hardcore beauty addicts, but those with only occasional interest would likely find it more convenient to keep their makeup shopping habits as they are.
Nonetheless, the possibility of on demand beauty products has potential in various areas of the market, and Mink looks to be an impressive first step in establishing a potentially new market.
 via TechCrunch