RenRen Who?: LinkedIn LNKD Shares Skyrocket 140% On IPO
LinkedIn began trading under the LNKD ticker symbol on the New York Stock Exchange today, pricing its IPO at $45 per share – the high end of the range expected by investors. That would have given the company a $4.5 billion market cap on $243 million in net revenue in 2010, but that's not where the price has settled. Jumping as much as 173% above that $45 share price, the stock is currently trading north of $106 and has gone as high as $122.70 today.
When we outlined the reasons why RenRen would never be a Facebook equivalent, most commentators were convinced that we'd missed something that would make the Chinese social network an indicator of the market viability of social networking sites as a whole. We didn't.
The simple fact is that RenRen has a number of challenges to overcome before becoming a good indicator of the viability of social networking companies in general, and in the days after their IPO the share price corrected to reflect that.
Today's explosive open for LinkedIn has had a positive effect for RenRen though: for the first time in a week, RenRen is trading above it's $14 opening price again. While we still think there's some long term value in RenRen – particularly for partnerships – we think LinkedIn has a far better chance of being the other social network stock that defines the sector (Facebook, of course, being the primary one whenever they IPO).
Here's why: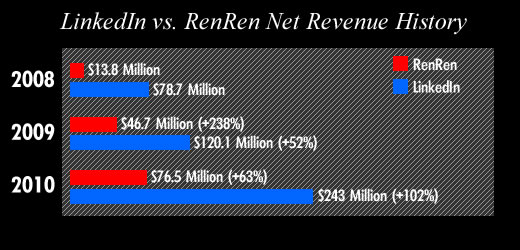 There will be even more debate as to whether LinkedIn is worth its share price: Google's current market cap is approximately 6x 2010 revenue, LinkedIn's current market cap is 42x 2010 revenue, but compared to RenRen's share price – currently 74x 2010 revenue – it's downright easy to reconcile.