The Mobile Disruption-What's Next? :TechCrunch Disrupt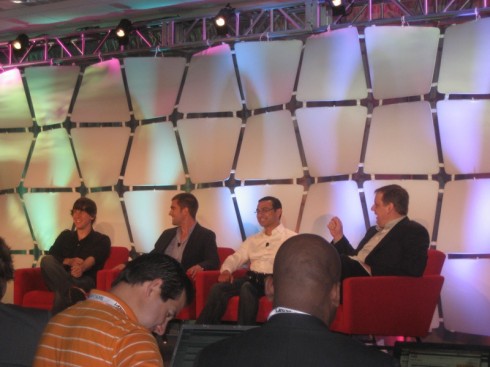 The first panel of TechCrunch Disrupt's second day was "The Mobile Disruption-What's Next?" panel about the future of Mobile. Â The panelists were Dennis Crowley, CEO of Foursquare; Chris Cox, a VP at Facebook and Vic Gundotra, a VP at Google. Â While the panel was largely about the future of mobile, special attention was made to location services and Facebook privacy issues.
While each of the three companies have different approaches to mobile, they all agreed that it's definitely not going away anytime soon. Â Crowley agreed the Foursquare is not the winner of location, but simply one of many options. Â He disagreed that Google Latitude's passive check-in model isn't the way to go as making users check-in makes it more interactive.
When asked about location for Facebook, Cox pointed that that a large amount of Facebook postings are based around location. Â Whether that content is status updates or photos, it usually tends to focus around things that are happening in certain locations at a certain time. Â Given that, it only makes sense that Facebook would get into location, even if only for geo-tagging.
Guntroda, on the other hand, didn't agree that geo-tagging as in Google Buzz doesn't count as checking in to locations. Â He highlighted that Google Latitude has 3 million users, and touted the privacy options like the mutual following model and that you can set just what level of location (exact location versus city-level).
In terms of Facebook privacy, Cox pointed out that on Wednesday Facebook will be rolling out new, simple privacy options. Â He acknowledged that there has been a privacy issue and that the company wanted to have a solution before saying anything about it.
When asked what the cell phones of the future will be like, nobody was sure. Â One thing they could all agree on was that future phones will need much bigger batteries than we have now. Â The three panelists also talked about how phones will have to be smarter, will have to be able to determine your location, and who/what is around you and react accordingly.