Gobble Raises $1.2 Million to Try SuperMarmite's Home Cooked Marketplace Idea In the US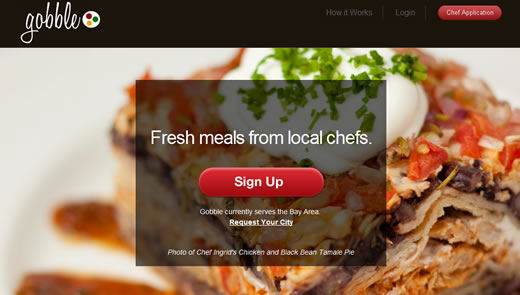 We were first introduced to the home cooked marketplace idea by French startup SuperMarmite at the 2010 LeWeb conference, and liked the founders' enthusiasm, but had our doubts about whether the concept would work  in the heavily regulated US food system. Gobble, a website with an almost identical business model, has raised $1.2 million to find out. {TechCrunch}
The funding, which comes from super angels like LinkedIn founder Reid Hoffman (via the Greylock Discovery Fund) is being used to fund expansion from the company's home base of Palo Alto.
Gobble takes a slightly different approach by offering delivery of items, but the option to pick up at the chef's home is also there. Our concerns are the same as the ones we brought up in our review of SuperMarmite's chances at international expansion.
"The founders reliance on the community rating system to flag dangerous dishes isn't a bad idea, but in countries like the US where more regulations are in place for restaurants, we're not sure if that will be enough to satisfy consumers or local regulators.

Then there's the safety of the people making the meals. We've covered a few cases of problems created by oversharing on social media. What's to stop a popular chef from becoming the target of a criminal? Their address is there, how much they're charging for food, and how much of it they have available for sale.

Finally, if neither issue becomes a concern, there's still the issue of professional chefs. Ridesharing apps and websites have come under local government scrutiny when they became popular enough to challenge public transportation. For restaurant owners, how much success would home cooks be permitted before they too would become a target?"
While it would only address one point, one solution to keep chefs safe could be to focus on the delivery aspect and expand on it. It might take away some of the charm of actually being able to drop by the home where your come cooked meal was prepared, but chefs wouldn't have to disclose as much personal information and the fact that they're not selling food directly out of their homes might go some way in convincing food inspectors and government regulators that the cooks aren't running a restaurant out of their kitchen. That determination, would of course mean that kitchens would be subject to food and health inspectors and an almost certain increase in paperwork.