Exclusively.In's CEO On Where the US Targeted Site Fits Within India's Domestic Luxury Market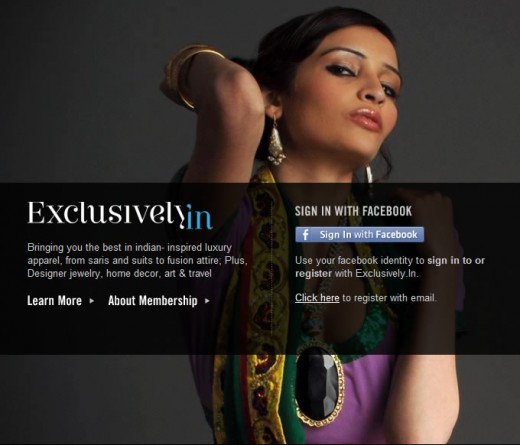 Most of the focus on growth in the BRIC countries (Brazil, Russia, India and China) goes to China, but India is experiencing strong domestic growth of its own. Exclusively.in, the private sale site that features Indian clothing and design, recently expanded their offerings to include Asian destination vacations and travel. The Indian aviation industry saw impressive domestic travel growth of 19% between 2009 and 2010; and while that growth was driven primarily by low cost carriers, less than 2% of India's 1.2 billion population travels by air, meaning plenty of opportunity for even more impressive growth. {CNN}
While most of that growth is driven by low cost air carriers, it's not unlikely that there are vacationers who save on flights so they can splurge on hotels, resorts and actual holiday destinations. With that in mind, we wondered if Exclusively.In was looking more towards the domestic Indian market for growth.
"Most of our audience is a combination of 1st and 2nd generation Indians (NRIs)," says CEO Sunjay Guleria. "This group, of course, is the early-adopter community. However, every day since we launched we see a growing percentage of our audience who aren't Indian, but are fascinated by Indian culture and/or have visited India.
Right now we're focusing on developing more unique offerings for our NRI customers. As you know, we currently only sell to the U.S., but very soon we'll be offering our selections to the UK and Canada…and then within India itself."
LVMH recently announced plans to launch a private equity fund in India that would be in a position to tap into the "aspirational" Indian market, rather than focusing on the top 500 families who represent the wealthiest Indians.
In a WSJ article, fund managing partner Ravi Thakran explained why L Capital found it more lucrative to focus on things like infrastructure, distribution and capital.
"If the creative guy is busy sorting out the accounts and logistics, and looking after the retail store, he cannot focus on the creative part," Â Thakran says. "If you can bring to them knowhow in these areas and to build that front end, these brands can really unleash their potential."
This seems to fall in line with Guleria's strategy for targeting global consumers before targeting the domestic Indian market.
"We're targeting the global Indian consumer, including within India," Guleria says. "As the official online retailer for Wills Fashion Week (April 6 -10), we're seeing so many great collections from Indian designers, we're excited about where the industry is going. Whether it's a designer like Manish Malhotra or an artisan craftsman, we are truly proud of the unique selections that we provide to our members daily.
We expect that our offering will continue to expand to satisfy the appetite for the global Indian consumer, which may also include Western brands within India."