Buzzworthy: the Flash Drive/Vibrator That Could Be the Next Crowdfunded Bestseller
We've seen USB flash drives that double as keychains and miniature figurines, but a company called Crave is releasing a flash drive that doubles as a uniquely different toy.
The Duet is a USB powered vibrator, with models that can also be used as a flash drive (we'll leave the type of content you'd find on a vibrator flash drive to your imagination). Insert your own joke about computer viruses here. Joking aside, the design driven sex toy is becoming more popular – and an area we'll explore in a future post, but beyond business models and general entrepreneurial spirit, the Duet vibrator is probably the one with the most tech cred.
The majority of vibrators – even those which have been given extreme design makeovers – still rely on batteries or electric chargers in order to provide a buzz. The USB-charged battery is sexy tech at its finest, and the functional flash drive gives it obvious discreet geek appeal, but it's also going into production courtesy of crowdsourced funding – a model that's had its greatest hit with gadget adaptations and accessories.
While the Duet hasn't hit anything close to the $1 million of the biggest crowdfunded gadget success story, it exceeded the $15,000 fundraising goal in just 2 days and there are currently 37 days left to go. CKIE, a Kickstarter-style site from design blog Yanko Design that focuses exclusively on industrial design, provided the platform. Women who expect smart functionality and sleek design from all their gadgets have apparently provided the rest.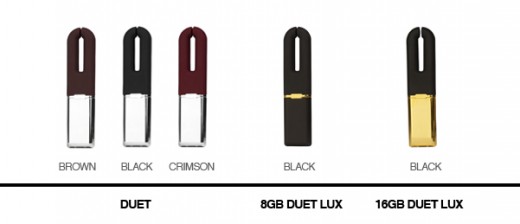 The basic Duet comes in 3 colors, and will retail for $139 (it's $75 if pre-ordered through CKIE), while 8GB and 16GB dual flash drive models will retail for $189 and $349 respectively ($125 and $250 at pre-order) and come in black and gold combinations. If that seems a little expensive, even for a flash drive that does serious double duty, both versions come with a 24K gold band, and we know how valuable gold is these days so just think of it as an investment. All models feature 4 vibration modes, 5 power levels, a waterproof design, two "virtually silent" motors and up to 4 hours of continuous use, though there's nothing that indicates how storage space on the flash drive might effect performance.
Designer Ti Chang and engineer Michael Topolovac are the founders behind the line.