Worldwide Pillow Fight in Pictures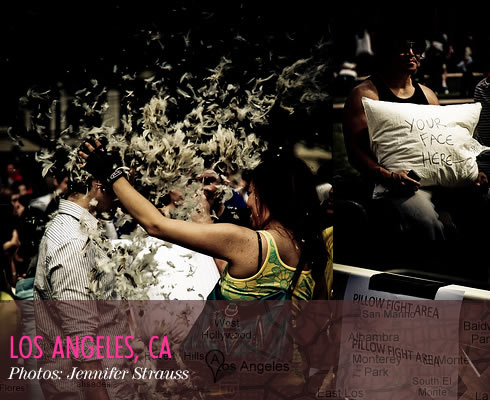 If you weren't using your pillow to sleep outside an Apple store last weekend, perhaps you were putting it to better use as part of International Pillow Fight Day. From Accra to Zurich, the feathers flew as people young and old battled it out in parks and gathering places around the world.
Started in 2008, the global opportunity to goof off is part of an "urban playground movement" that aims to get people out from in front of the television, and out into the streets having fun. Let's hope it catches on as a way to settle differences, because we've never seen more people look so happy to be in a fight.
Our thanks to Doug Tangren, Margaret Griffis, Dilip Bhoye, Bas van Duijn, Chris Beckett, Holger Eilhard, Paul Oberle, Angel James de Ocampo, Emmanuel Alvarado, William Hoiles, Jennifer Strauss and Steve Stearns for sharing their photos.
Amsterdam Pillow Fight photo set
Bas van Duijn
Chicago Pillow Fight photo set
Steve Stearns
Cologne (Koln) Pillow Fight photo set
Holger Eilhard
London Pillow Fight photo set
Chris Beckett
Los Angeles Pillow Fight photo set
Jennifer Strauss
Miami Beach Pillow Fight photo set
Margaret Griffis
New York Pillow Fight photo pool
With images from William Hoiles
New York Pillow Fight photo set
Doug Tangren
Paris Pillow Fight photo set
Angel James de Ocampo
San Diego Pillow Fight photo set
Emmanuel Alvarado
Taipei Pillow Fight photo set
Dilip Bhoye
Washington, DC Pillow Fight photo set
Paul Oberle