Tortoise Print Alexander McQueen Knuckle Duster Clutch: The Daily Bag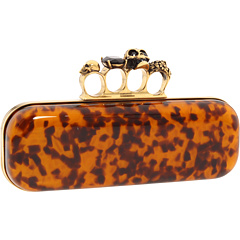 Alexander McQueen's knuckleduster clutches are always eyecatching, but we're particularly fond of this version in tortoise shell print leather for a few reasons. Â For one, it's an unexpected alternative to the more common leopard, tiger and zebra patterns that tend to dominate when you think animal print. The warm brown and deep gold colors make it a perfect winter print, and even if someone tried, the clasp/knuckleduster ring means no one is going to pry the little stunner out of your hands with any ease.
$2149 at Zappos
Just as lovely, but a little less…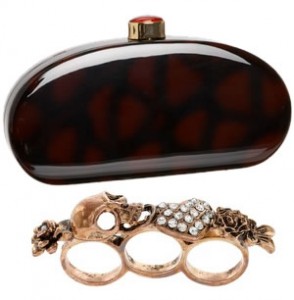 You'll have to use two pieces, but ASOS' knuckleduster ring paired with Menbur's Azuca Clutch will give a similar gothic chic clutch effect.
$110 at Endless
3-finger Skull Knuckleduster Ring
$20.69 at ASOS

More Shopping & Inspiration