2010 Fashion: The Year In Review
Big Trends: the 2010 Mood Board
One thing missed entirely was a mention of the biggest trends of the year – those that you will remember as distinctly 2010 when pulling out old photos in years to come. Here's a roundup: nude shoes and dresses, half-moon manicures, everything greige, red hair, jeggings/leggings/skinny jeans with oversized booties, monokinis and fedoras. Also, Style.com mentioned Lady Gaga's raw meat dress – a very important style moment of the year – but failed to point out a bigger trend Mother Monster kicked off on runways last year and passed on to the rest of the Hollywood community this year: going pants-less.
Fashion's Night Out: The Show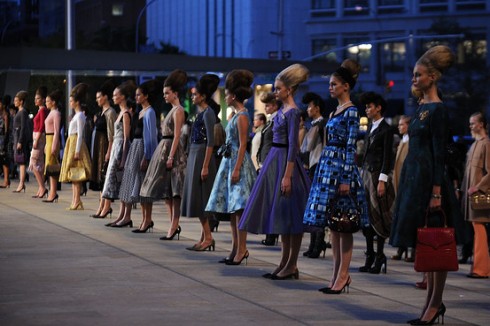 Style.com highlighted Lincoln Center's first season as the home of fashion week but didn't mention the biggest event that took place there this September. Though news spread recently that Fashion's Night Out: The Show will not return next year (guess Anna's not in to outdoing herself – or perhaps FNO didn't boost sales as much as it was supposed to, which PS we're still waiting for word on), the mash up of designer looks set to thumping music in front of an audience that included regular folks along with the show's eventual air on television was an important step to bringing the consumer and runway fashion closer together. Becoming more relatable to the average person is just what designer fashion needs to remain relevant into the future, and Anna Wintour and co. helped bring that goal within sight this fall.