Anthropologie Is Next to Hear Wedding Bells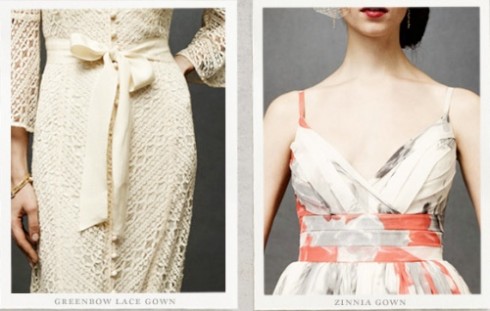 Vera Wang and David Tutera seem to be obvious choices for expanded wedding lines and associated products, but now there's word Anthropologie is also getting in on the more affordable wedding wardrobe trend with the unpronounceable BHLDN site (seriously, is that blah-den or bee-holden? Let's go a little more web 1.0 on the name guys), scheduled for a February 14th launch. {Wedding Bells}
Wedding bells and cash register clinks have never sounded more similar apparently, because every time we turn around there's a new retailer or designer expanding their footprint in the bridal market.
Cynicism aside, this seems like a good move for the Urban Outfitters owned retailer, who caters to a customer that enjoys a vintage looking, bohemian aesthetic. Most wedding dresses, including Vera Wang's main line and soon-to-be launched line for David's Bridal, are looks of layered tulle and tissue organza fit for a princess. Yet some brides don't really want to look like a princess. For those who want a more casual, low key wedding, and a dress that matches that vibe but still looks beautiful, there does seem to be a void in the market.
Perhaps, not for much longer though.