Fired: John Galliano Will Not Close the Next Dior Show 'As Usual'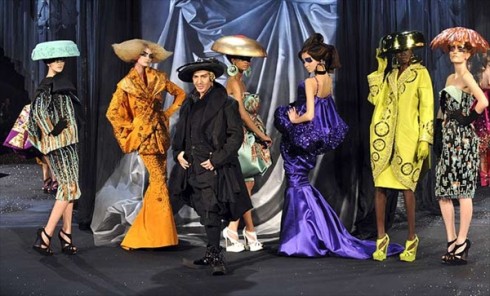 John Galliano has gone from suspended to unemployed after video of the designer making a number of disgusting comments surfaced yesterday.
The New York Times reports that Dior CEO Sidney Toledano, himself Jewish, confirmed that proceedings were moving from suspension to dismissal.
"He condemned ''in the strongest terms'' Mr. Galliano's words, ''which are in total contradiction with the essential values that have always been defended by the Christian Dior house." – NYT
This follows a statement by recent Oscar winner Natalie Portman, who is also the face of Miss Dior Cherie perfume. Though her publicists wouldn't allow her to comment in a question posed in the press scrum after the Oscars, Portman did speak out saying that she was "deeply shocked and disgusted by the video. As an individual who is proud to be Jewish, I will not be associated with Mr. Galliano in any way."
It's not clear if the actress' statement had any effect on the decision to move from suspension to firing.
Galliano maintains that he did not use antisemitic language in the incident which sparked the initial complaint, even going so far as to file defamation charges against the couple. Police are still investigating, and though Galliano faces a fine and jail time if he should be convicted, no official court proceedings have been announced.
Both the upcoming Dior and John Galliano fashion shows are scheduled to go ahead on schedule, though it's highly doubtful that Galliano will fulfill his lawyer's promise of appearing at the end of the show "as usual."