Marc Jacobs Plans to Introduce Plus Sizes
Marc Jacobs' business partner, Robert Duffy, seems to be loose-lipped when it comes to tweeting about the designer and his latest ventures. Recently Duffy tweeted about plans for a plus sized line.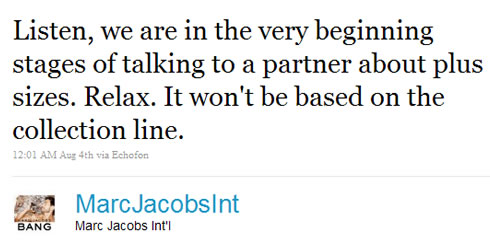 We love the idea, and think it's about time we saw a plus size collection from the designer, although we wonder how Marc feels about his partner letting the news slip on twitter. While the explosion of plus-sized models in magazine spreads left more than a few people cynical about if it was tokenism or signs of a real change in fashion, it does seem to mark a shift. Saks Fifth Avenue's New York flagship quietly announced plans to include sizes up to 20 with fall collections from Chanel and Dolce & Gabbana among others. While it would  nice to see larger sizes included on styles from the main range, something is better than nothing when it comes to more options for 12+ women who are interested in fashion, but don't find the same variety of options at retail.  Some styles in the traditional 0-10 designer size range may not be flattering if they're just sized up, so we'll take the optimistic view that the split from the main line is for the purpose of creating clothes designed specifically to flatter larger sizes. As long as the end result is a sister line that has enough sartorial similarities to the Marc Jacobs aesthetic fans of all sizes have come to admire, we can't wait to see the result.
In addition to the plus-size line, Robert also tweeted about a debut Marc Jacob's Men's show in Milan saying,  "Yea. I guess I broke the news on twitter that we were going to have our first Marc Jacobs Men's Collection show to be held in Milan."  The good news keeps on coming, but Duffy admits, "I'm over sharing, but  still unable to resist."