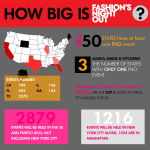 Fashion's biggest party is back for a 3rd year, and while we and Cathy Horyn are still struggling to find the business upside to the celebrity and champagne bills, there's no denying the buzz boost Fashion's Night Out provides. We also have to tip our hats to Anna Wintour's promotional power: there is now a Fashion's Night Out event in all 50 states (thanks to tie-ins with national chains), 17 countries, and for those who don't want to fight the crowds of fashion fans in the streets, online.
So, to demonstrate just how big of a thing FNO has become, let's take a look at Fashion Month's unofficial kickoff by the numbers.

Once video of John Galliano drunkenly declaring his love for Hitler started circulating online and throughout the media, public opinion was generally in favor of a different couple who claimed the former Dior designer insulted them using anti-semitic language, which is illegal in France. A French judge agreed that where there are declarations of admiration for Nazis, there is usually antisemitism and handed down a guilty judgement which will see the designer fined, but not facing any jail time.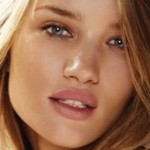 Big fashion brands often pay lip service to the importance of new media, but few have embraced it as wholeheartedly as Burberry. The Financial Times is reporting that the company is truly putting their money where their plaid-patterned mouth is by reducing their ad spend in print magazines to spend more online.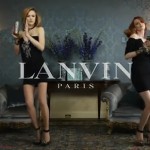 Some things are just better in motion, and this week we were reminded of that with a few viral style videos that have started making the rounds online.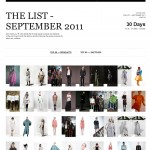 When we first covered Garmz, the site was a place where anyone with a sketch and a bit of vision could see their idea actually put into production. Today, they've rebranded and relaunched as LOOKK, with backing from a few notable investors and an expanded offering for (slightly) more established designers.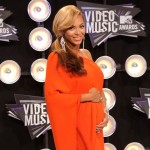 Beyonce has managed the biggest fashion surprise of the 2011 MTV Video Music Awards, but not for any outrageous costume.
The nearly 30-year-old singer debuted the first (beautiful, bright, Lanvin) maternity dress of the evening, and all but confirmed her pregnancy by conspicuously displaying her baby bump and asking the audience to feel "the love growing inside" her when taking the stage.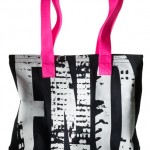 Cathy Horyn doesn't believe the expense of Fashion's Night Out is outweighed by any benefits. A position we put forth last year.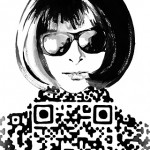 In one of the best fashion/QR code mashups we've seen since Calvin Klein's billboard, Yiying Lu, the artist behind the Twitter fail whale, created 10 hand-drawn illustrations for Meets Obsession magazine – complete with fully functional QR codes (also hand-drawn).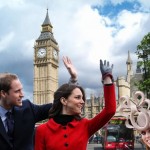 New York is easily the fashion capital of the US, and considering the size of the American consumer market, for many people that makes it one of the top fashion cities in the world. According to a list from Austin, TX based internet analysis company Global Language Monitor, that's not quite enough to make it number one though. What is enough? How about a blue blood wedding, a newly minted princess with a mostly attainable wardrobe/style, and one design house with a genius founder and brilliant successor (who also played a role in said wedding). Come on down London, you've officially been crowned as the internet's favorite fashion capital.
But is it?