Tory Burch Delivers '70s-Inspired Fluidity for Fall 2011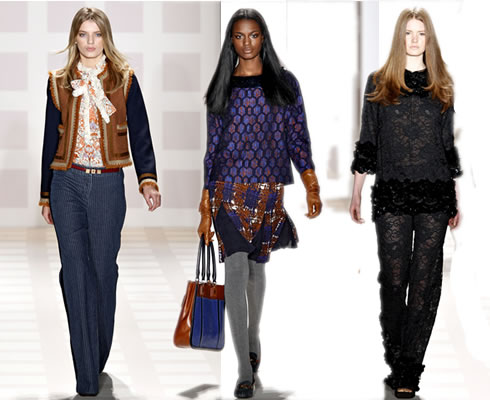 Get ready to retire your skinny jeans and say hello to a fresh fall style this year. Last weekend we had the pleasure of attending Tory Burch's Fall 2011 runway show as part of New York Fashion Week, and the designer delivered a '70s style collection with looks for work, weekend and evening.
The show was dominated by 70s-inspired pants with super wide legs in camels, plaids and prints and also featured models with center-parted,unfussy tresses that recalled the decade. Some of the models also wore red leather boots, grey stockings and blouses ruffled at the neck.
Our favorite look (which, according to Twitter, is one of Tory's favorites too!) was a matching camel and navy print ensemble with, of course, wide leg pants and a blouse with matching scarf. Our other favorite? A black lace top and super flare leg pants with layers of shimmering  detailing at the collar, cuff and hem that was the perfect blend of '70s inspiration and modernity.
According to show notes, Burch was going for something currently American with touches of English country. We certainly got that vibe from the furry parkas and previously mentioned blouses and tights that were mixed with of-the-moment trends like sequins and lace.
Overall, Burch stayed true to her signature styles while coming up with a fresh set of looks. Almost makes us want to rush through summer to next fall so we can wear the clothes. Almost.