Blue Ivy Carter's First Photos Debut On Tumblr [PHOTOS]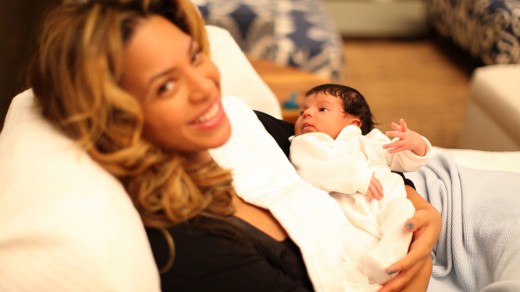 Look out People;Â social media is the new magazine cover if recent celebrity baby photo debuts are anything to go by. First the Beckhams, skipped the magazines when it came to Harper Seven's photos and went directly to Twitter and Facebook. The most recent release comes courtesy of Beyonce and Jay-Z, who created a Tumblr account for Blue Ivy Carter's first public snapshots.
Looks like Babyonce takes after mom quite a bit, and if the birthday rap weren't enough, now there's photographic proof that Jay-Z is quite the proud papa.
It should surprise no one that baby Blue Ivy already has a cute little pixie cut (expect all of the fashionable babies to request a version now), and Beyonce has nary a spit-up stain or pair of sweatpants in sight.
The only question remaining is which celebrity golden child will be the first to make their debut on Pinterest.