Kanye West's Fashion Friends Officially Hate Kim Kardashian
And You Thought the Socks and Underwear You Got Were Awkward
In a picture that brings to mind at least a thousand words, Kim Kardashian shared her Christmas gift from Kanye West with her followers.
Apparently the artist behind this previous pop culture painting phenomenon was unavailable.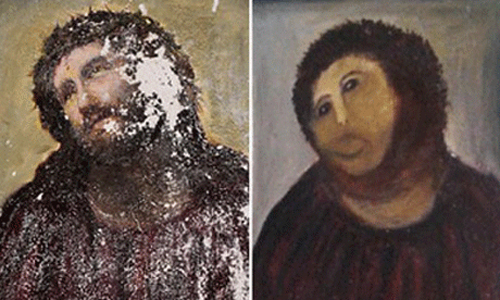 There's so much that can be said here, but in case you'd just like the facts, what you're looking at is an Hermés Birkin bag that likely started off with a retail value in the 5-figures, customized by artist George Condo, who previously worked with West on the album art for My Beautiful Dark Twisted Fantasy.
In case you want more than the facts, here are a few fun things to do with this image:
Guess which Kardashian family member each portion of this painting represents. #KrisHasToBeOnTheLeft
Have a friendly debate about whether this tops the floral print dress/glove combo that made Kim subject to grandmother's couch comparisons. #GameOnGivenchy
Wonder if Anna Wintour had a word with the artist before he completed this. #StillNoVogueKoverageForYou
Speculate on the possibility that Kanye West is at the top of the fashion trolling game, and secretly dismantling the Kardashian empire by bringing them to a level of public embarrassment that no one thought was possible. #BeautifulDarkTwistedKardashianKonspiracy
Image via Instagram