Oscar de la Renta's Facebook Shopping Experiment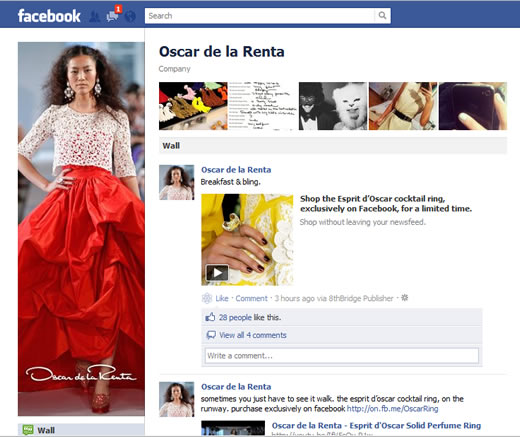 Oscar de la Renta is the first luxury brand to launch a Facebook commerce, or F-commerce, initiative contained entirely on the social medium where it has over 283,000 followers.

While Oscar de la Renta is not the first high-end fashion company to implement an F-commerce component, it is the first to offer a commerce experience from beginning to end without leaving Facebook. In fact, the whole transaction can be done either on a tab on the brand's page, or if the user prefers, without even leaving his or her newsfeed. {WWD}
Oscar de la Renta doesn't have the social footprint of a brand like Burberry or Ralph Lauren, but you have to give the label credit for what's becoming one of the most solid efforts in integrated fashion. Erika Bearman, the company's communications director who's better known to 90,000 Twitter followers as OscarPRGirl has developed a cult following across Facebook, Twitter and Tumblr.
It will be interesting to see if that will translate to sales. Conventional wisdom seems to state that social is for interacting, rather than selling. Though most brands know that they need to be involved with social media, one of the questions that goes beyond fashion is what those likes, follows, retweets and such are actually worth.
"Everything we do is oriented towards business, but the first thing we need to do is get people engaged, and then we will find out how best to commercialize this engagement." – Oscar de la Renta CEO Alex Bolen
Starting with a $65 solid perfume ring (which is pretty nice, and reasonably priced if you're into cocktail rings), the company plans to launch other products on their Facebook page. In-newsfeed and start to finish tab based shopping is made possible through a single item store rendered in Flash, which enables it to be passed along in the same way a video can.