9 Pairs of UGG Boots That Aren't Completely Hideous
We did what we thought to be impossible this summer and surfaced 5 pairs of Crocs that aren't entirely hideous. With fall officially underway we've taken on the challenge again with Crocs' cold weather cousin – the UGG boot.
Not even Jimmy Choo could bring us around to the boot that puts the ug(g) in fugly, but after a bit of research we encountered a few UGG styles that didn't makes us recoil in disgust. A few were – wait for it – actually attractive (as opposed to simply not ugly). Really!
That's the good news: if you're really compelled to wear UGGs outside (no judgments for what you stick on your feet behind closed doors) there are versions out there that won't make you look like you've thrown in the towel on fashionable footwear. The bad news? The original is still the most popular style we spotted. The downright ugly? That would be the price of some of the best looking versions. Even though the standard style isn't cheap (starting at $200), some of the better looking options step into serious designer shoe territory at more than $1000.
That said, all options keep some aspect of the comfortable shearling lining that made the originals popular in spite of their outward appearance. And the argument can be made that anyone willing to spend a few hundred dollars for the original footwear atrocities shouldn't find it too much of a price to pay to spend a little more for style. So in preparation for those times when the weather gets ugly, but you don't want to, there's finally an UGG for that.
UGGÂ Collection Aniela in Flint (Also available in Army)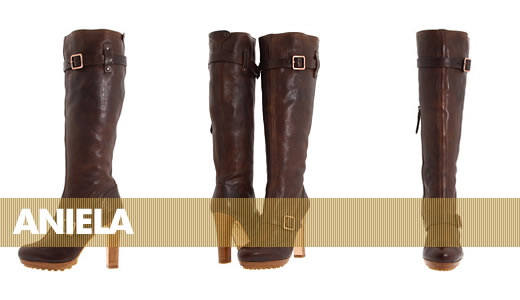 $995Â @Zappos
UGG Collection Giorgina in Leopard (Also available in Black)
$650 @Zappos
UGG Collection Donata in Indigo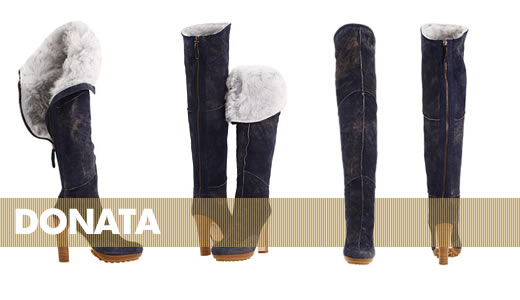 $1195 @Zappos
Also available in Black/Espresso @Nordstrom (sizes 11 & 12 available) and Natural for $1095 @Zappos
So this boot is pretty pricey, but it also looks insanely warm and comfortable for a heel. The heel isn't too thin, and the rubber grips on the bottom of the small platform make it look safe enough for icy or wet sidewalks. Depending on how low it's unzipped, it does start to stray into the "animal eating your leg" look that we aren't so sure about, but just a little of the sheepskin lining looks surprisingly on trend. Surprising enough that we're still wondering if this boot is really an UGG. The Indigo color that mimics a pair of well worn denim is our favorite, but the Natural (a light, distressed leather) and Black/Espresso versions are pretty good as well.

More Shopping & Inspiration