Color Blocking: Maroon, Pinks and Greens
If you haven't noticed, we're kind of in love with all of the colors that are popular for spring. We're even bigger fans of going all out and pairing those colors in unexpected combinations. Basic black and neutrals will never go out of style, but in our ongoing encouragement to mix things up we present the first in an ongoing series of color palettes we think are worth trying.
As an added bonus, if you're looking for ways to make a work wardrobe more fashionable but can't get away with daring cuts or extravagant shapes, color is a great way to stand out while keeping things safe for work. Unless you work at Citibank, or something.
Many people are still undecided on pairing pink and red, but if you're ready to give it a try we like combining the two colors in saturated shades with the pastels left to accessories. Green isn't exactly on the other side of the color spectrum, but it's not far away. A variety of greens, from a blue-tinged belt to apple green shoes can keep things from getting to Christmasy.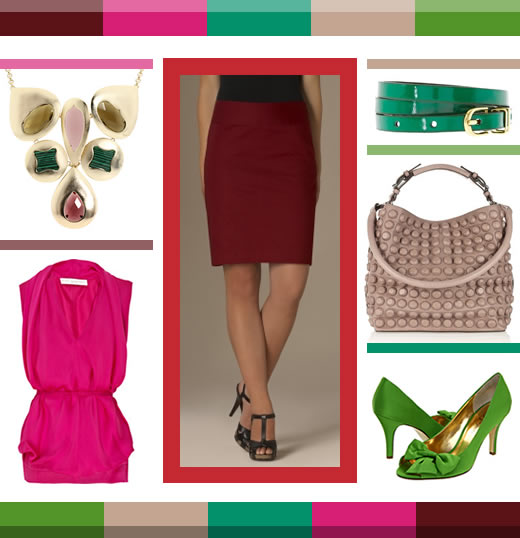 Kendra Scott Basil Nolita Necklace $136.50 @Zappos
Stella McCartney Magenta Belted Sleeveless Silk Blouse $355.50 @the Outnet
Garnet Linen Double Stitched Pencil Skirt $59.90 @The Limited
ASOS Metal Keeper Green Patent Skinny Waist Belt $10.76 @Asos
Marni Studded Leather Handbag $2015 @Net-a-Porter
Bouquets Bette Apple Green Peep-Toe Pump $69.00 @Zappos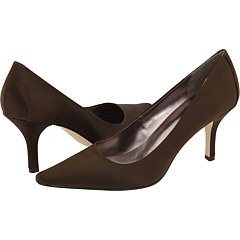 If the shoes are a step too far, swap them out for a dark brown pair which will compliment the other shades better than black.
Calvin Klein Chocolate Satin Dolly Pump $98 @Zappos

More Shopping & Inspiration