The Daytime Cage Black Dress (Including a Petite and Plus Size Pick Under $100)
Little Black Dress of the Week
Cage-like cutouts tend to end up on evening dresses paired with high shine fabrics and embellishment; but plain, grid cut eyelet fabric makes the look work as a less formal interpretation. The texture makes it an option that's interesting enough to not become a basic (in the boring, bland sense of the word) piece, while maintaining the versatility that makes little black dresses so popular in the first place.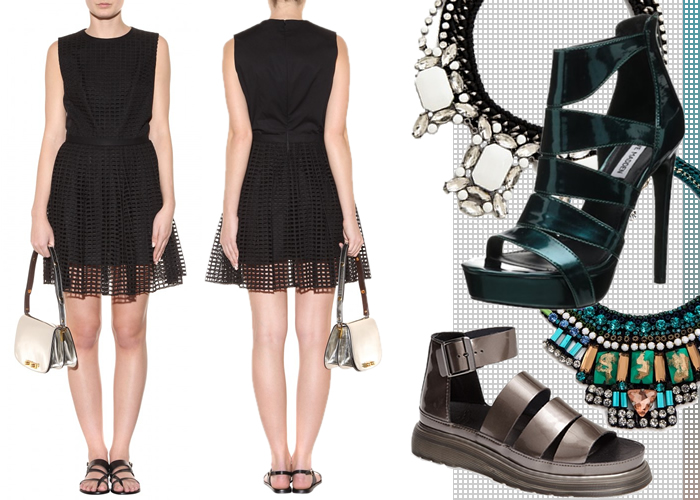 Carven Cutout Cotton Dress, $830
Carven's take on the style has a minimally gathered front and uncovered contrasting back panel, with a lining that stops a few inches short of the hem to play up the pattern.
Looks great with: thick strapped, dark metallic sandals that keep the cutout theme running from head to toe, and a statement necklace with rectangular stones.
From top to bottom
Venessa Arizaga Rock With You Necklace, $475
Steve Madden Spycee Platform Pump, $90
Nocturne Reem Necklace, $298
Dr. Martens Clarissa Sandal, $110
Under $100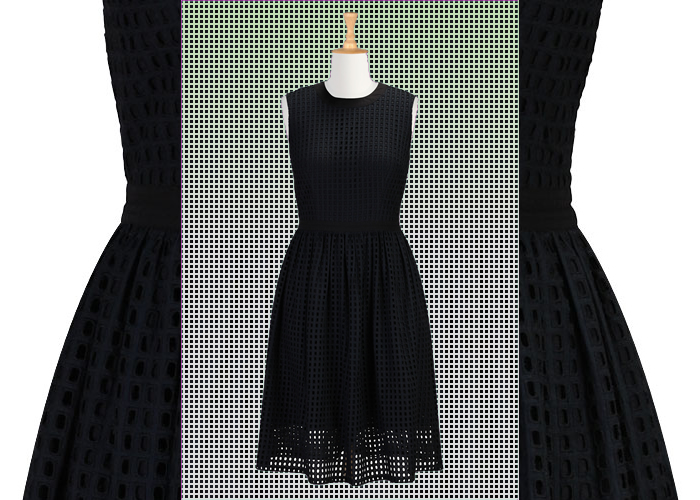 eShakti Fiona Dress in Black Cotton Eyelet, $95
eShakti's version has a more classic fit and all-over eyelet, but the same silhouette overall. Aside from the obvious price advantage, eShakti offers standard sizing from 0 up to 36W, customizes according to height – always an advantage for the petite or tall shopper – and offers a number of customization options. If your perfect version of this dress involves a maxi-skirt and a v-neck, for example, they can make it happen.

More Shopping & Inspiration