DSquared² Natasha Long Dress: Little Black Dress of the Week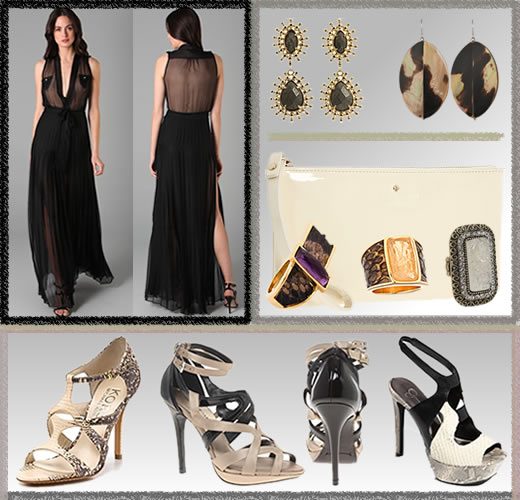 In our last little black dress installment, we kept things safe for work with flashes of color of the season coral/honeysuckle. When we saw this DSquared² maxi dress though, we couldn't resist going a bit sexier. The sheer back, the sheer front! The little pockets for a hint of modesty, the long skirt and deep v-neck all give a serious does of 70s glam. With a dress like that, bright color would be a bit too much, but we love a bit of snakeskin on accessories and creams and soft neutrals to go for all out glamour. After all, this is a black dress that's anything but basic, so the accompanying accessories shouldn't be either.
DSquared² Natasha Long Dress $1950 @Shopbop
Kendra Scott Champagne Gartha Earrings $65 @Zappos
Monique Pean Pteria Oyster Shell and Diamond Earrings $1510 @Barneys
Kate Spade Bone Harrison Street Jenny Ann Wristlet $125 @Zappos
Kara by Kara Ross Brown Tiger Python and Amethyst Ring $220 @Max & Chloe
Claudia Lobao Citrine and Python Ring $275 @Max and Chloe
Forever21 Clear and Cream Cocktail Ring $5.80 @Forever21
KORS Michael Kors Sasha Caged Snakeskin Sandals $225 @Bloomingdale's
Karen Millen Hard Graphic Beige and Black Color Block Heels $277.92 @Asos
Jessica Simpson Collection Bendie Snakeskin Platform Sandals $88.95 @Nordstrom
Just as lovely, but a little less
Twelfth Street by Cynthia Vincent Chiffon Back Jersey Dress $374 @Nordstrom
It's not as va-va-va-voom as the DSquared² version, but this slightly less sheer, slightly more modest v-neck chiffon back Cynthia Vincent dress is also not as tricky to pull off wearability or wallet wise.
Underneath it all…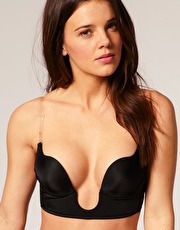 While clear bra straps can elicit a love/hate reaction, underneath either dress they're a good way to get the support of a real bra without distracting from the design. And since the back isn't totally exposed, the clear straps may actually be unnoticeable. If you need more support than a truly backless bra offers, try the Fashion Forms Clear Back U Plunge Bra $34.07 @Asos.

More Shopping & Inspiration