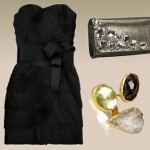 Taffeta! Ruffles! Satin! That's right, prom is around the corner for millions of American teens. If you're shopping for one, or just want a cocktail dress that lets you relive the excitement vicariously, we have you covered. We'll be taking on affordable prom dresses and dream prom dresses in separate posts, but we kick things off with a little black dress that will continue to work for college cocktails and other events past that one special night. At $300 (originally $750), this Notte by Marchesa dress may still take a little bit of saving, but trust us when we say that Facebook photo tagging has made a prom dress that won't be a point of embarrassment at your 10-year reunion truly priceless.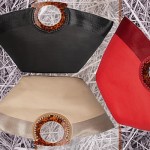 Most of the straw purses on our list this week were a bit non-traditional. That was so we could save this tote for last. The Maia Straw Gancini Rascello Tote is classic in the best way possible. It's decidedly best poolside or at the beach, but the fan shape, tortoise print handle and contrasting band at the top will undoubtedly be a style staple that lasts for many summers to come.
No one likes a snake in the grass, but Ghibli makes snake on grass looks pretty good. Our previous picks were focused on straw bags of the non-tote variety. If you're looking for options in the traditional straw tote vein with some versatility, contrasting trim in a different material helps to keep things from heading in the "only for the beach" direction. On this tote we like the woven handles that pick up on the texture of the straw body, and the various shades in the python trim that add a bit of luxe differentiation from every other straw tote out there.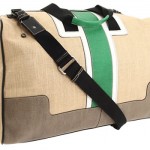 We're on to our second man bag of the week, and you may notice a habit developing. That would be color blocking and canvas combinations if you don't feel like clicking through to figure it out. What can we say? Girls normally get all of the interesting colored accessories, so when we spot a bag for the guys with clean lines and colors that manages to still preserve the simplicity that lets a good man bag retain its masculinity we can't help making it a regular thing.
Keeping things going with the straw bags that don't look like the typical straw bag theme, we couldn't resist this patent leather trimmed, hand embroidered number. Fendi fans will already be familiar with the classic baguette shape, and while the price is a bit more than your classic straw bag, it's the atypical blend of texture and color that puts it on our list today.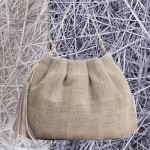 The Furla bag of the season is probably the translucent bags that sold out faster than you could say jelly, but there are quite a few seasonal bags from the brand that are just as covetable (though we'll admittedly be checking back for the jelly bags on a regular basis). The Furla Straw Blossom Tracolla Drawstring Bag, $375 @Macy's covers a few of those bases, and is definitely one for the wish list. Summer ready straw? Check. That doesn't literally look like straw? Check.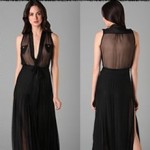 In our last little black dress installment, we kept things safe for work with flashes of color of the season coral/honeysuckle. When we saw this DSquared² maxi dress though, we couldn't resist going a bit sexier.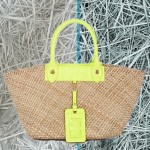 For accessories, few things say welcome to spring like straw. In New York, the weather still hasn't gotten the memo, but this week we're looking forward to spring and summer with picks for some of our favorite straw bags of the moment.
Kicking things off, the Marc by Marc Jacobs Preppy Straw Rosa Tote, $178 @Bloomingdale's, mixes things up with neon trim that carries through to the attached ID tag and wallet. The brights will work all summer long, and there's plenty of room for the May flowers that we're looking forward to so much more than the current April showers.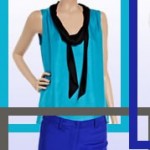 This week in color blocking, we're pairing bright blues and various shades of gray. Whether it's vibrant turquoise or primary royal, the spring blues are more bold than basic, and pairing them up can be an unexpected take on the shade.