Semi-Formal Sneakers: Trend/Treat/Treasure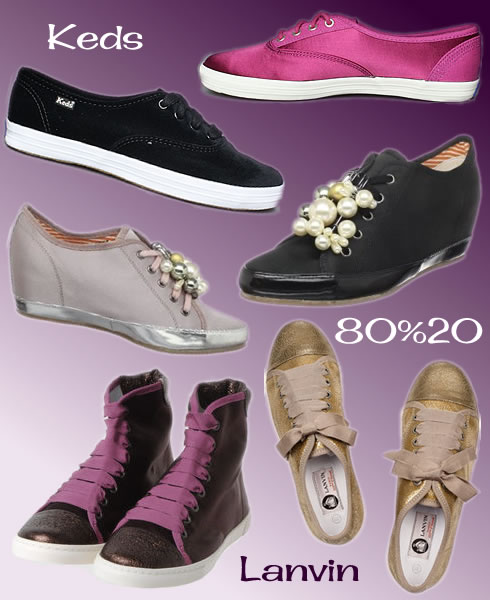 The holidays may be gone, but one trend that we can get into all year round are semi-formal sneakers. Sure, satin, velvet and pearls have traditionally been reserved for evening, but with winter storms making sidewalks icy and walking in heels a bit more precarious they're a great way to add some polish to weather appropriate outfits without crossing over to the dark side.
Trend: Keds
At under $50, the price on Keds' classic sneaker is right. Though not as fancy as other semi-formal sneaker options, that  can easily be changed by swapping out the included laces for a satin or grosgrain ribbon to add more polish and personal style.
Keds Champion Velvet CVO in Black $45 @Karmaloop
Keds Satin in Magenta $25.95 @Karmaloop
Special Karmaloop offer: Through January 31st use promo code SLICK to get 20% off of any purchase over $75, ZIPP for free shipping on any US order or $8 off of international shipping
Treat: 80%20
Satin + shiny leather + a pearl decoration + hidden wedge = the perfect sneaker for anyone who wants a decidedly ladylike sneaker that doesn't mean foregoing the height boost of heels, or suffering the hideousness that is most sneaker/heel combinations.
80%20 Diva Pins Wedge in Silver Gray $98 @Karmaloop
80%20 Diva Pins Wedge in Black $98 @Karmaloop
Treasure: Lanvin Sneakers
The First Lady approved classic, Lanvin's satin ribbon laced shoes originated the dressed up dressed down footwear look.
Lanvin Metallic Cracked-Leather Sneakers $565 @Net-a-Porter
Lanvin High-Top Sneaker, Deep Purple $309 @Yoox

More Shopping & Inspiration