Studded Flag Chuck Taylors
The Daily: Shoe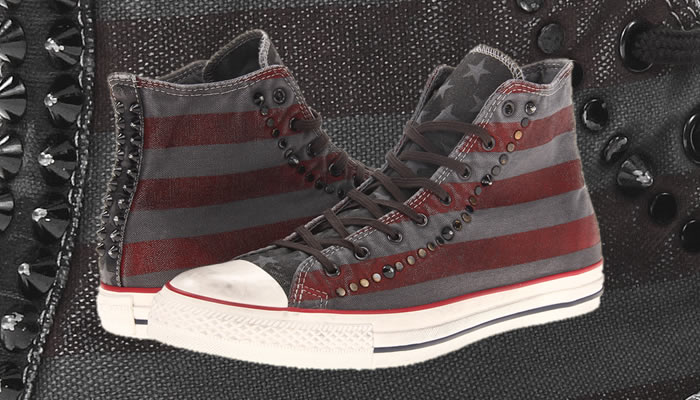 Converse Chuck Taylor All Star Studded Flag Well-Worn Hi, $64
You may have heard that the theme of this year's Met Gala is Punk. Which seems a bit odd at first, considering the event is organized by Vogue editor Anna Wintour, whose standard look of sheath dresses and Chanel glasses  is way more prim & proper than punk.
Then you have the fact that Kanye West is rumored to be the performer, and Beyonce (she of the sparkly bodysuit nipples) one of the celebrity organizers. Both musicians have their rebellious moments; West, on multiple occasions, Beyonce's "I'm not bubblegum pop" attitude of late telling other singers to Bow Down to her NSFW tromp l'oeil costumes. Still, even the risk takers are more fashion punk than OP (original punk).
We'll bite though – while Wintour's type of fashion doesn't seem like the most likely pairing, movements have to evolve to stay alive. The fact that punk has lived long enough to become a point of inspiration for the unlikeliest of editors, to break into the unlikeliest places says something for the strength of the original idea.

More Shopping & Inspiration