The Look Of: Michelle Obama in Tom Ford at the Buckingham Palace State Dinner
While many people have said that the daytime ensemble Michelle Obama wore when meeting Prince William and the Duchess of Cambridge (Kate Middleton, if you're on friendlier terms) wasn't her strongest, we're head over heels in love with her look for the later state dinner at Buckingham Palace.
The First Lady wore a halter neck ivory Tom Ford gown with a bow detailed banded waist, matching opera length gloves and enough gleaming accessories to exemplify the style of American royalty. The First Family may not have any crown jewels to bring out for special occasions, but we think Mrs. Obama was every bit as stunning as the aristocratic (and more bedazzled) dinner guests.
So we can't think of any better ensemble to kick off a new semi-regular series: The Look Of. We'll take this space to identify some of the most striking celebrity looks, as well as more accessible options for recreating the look for your own event.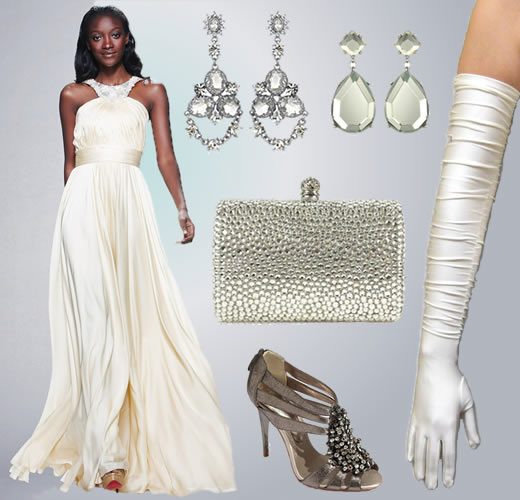 Tom Ford has played his publicity cards notoriously close to the vest when it comes to releasing images of his womenswear collections, going as far as requiring editors and invited guests to sign non-disclosure agreements before viewing presentations. So Michelle Obama's choice for the Buckingham Palace state dinner had an appropriate level of secrecy and excitement about it even before being debuted in front of royalty.
If it's available, you could expect to pay a few thousand dollars for a similar Tom Ford gown. If you don't have the connections or the budget though, this Silk Halter Dress from Theia is $795 @eDressMe and features a similar banded waist, flowing skirt and ivory color. The sequined halter neckline is different, but is similarly great for showcasing toned arms.
When it comes to the stunning chandelier and teardrop earrings the First Lady wore, we're pretty sure those are a custom creation, but you can achieve a similar look by combining two earrings for your own unique shoulder-length head turners. We love the Crystal Cluster Chandeliers by Badgley Mischka, $220 @Charm & Chain, to channel the shimmering detail of the top of Mrs. Obama's earrings. The Teardrop Crystal Stone Earrings from Gerard Yosca, $105 @Charm & Chain, are stunning in their simplicity, but for full on luxe we'd remove the teardrop shaped crystal drop (which has the same slight hint of bluish-green that MObama's earrings did) and add it to the Badgely Mischka earrings. A jewelry repair store would likely be able to make the modification.
When it comes to the crystal covered clutch, Rodo's Evening Hard Clutch, $1767 @Forzieri, has a similarly stunning look to the minaudiere on Mrs. Obama's arm.
While we can only see the slightest hint of her shoes, from what we could see the first lady went with silver closed-toe shoes. We're guessing that any occasion you'd want to replicate the look for will be just a touch less formal, and for that we think the Leigh sandal by Bourne, $300 @Nordstrom, is a good place to deviate from the original look. There's still plenty of glitz from crystals and metal beads, but it's also a shoe that would look great with a cocktail dress.
Complete the look with shirred matte satin opera length gloves in ivory, $34 @Great Lookz. Stick with matte fabrics to replicate the First Lady's look and pull off a white gown without looking like a misguided bride or prom attendee.

More Shopping & Inspiration