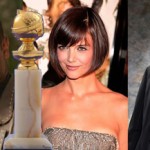 This morning, the Golden Globes nominations for 2011 were announced by Josh Duamel, Blair Underwood and Katie Holmes; and with it the official start to the 2011 awards season. For film, the Golden Globes are seen as a predictor of Oscar success (at least nomination wise). For television? Well, there's an open bar which normally makes for a pretty entertaining ceremony. Of course, we can't forget the red carpet fashion, so without further ado here are the nominees who will probably be on the receiving end of some expensive designer swag next year.
Tim Burton's new rendition of 'Alice in Wonderland' gave big name retailers a fun muse for this season's windows.
The scenery from the movie (mostly taking place in foliage as Alice is shrunken by magical mushrooms in the forest) is the perfect backdrop to display all that spring has to offer. Whimsical and magical, they truly capture the fairy-tale essence of the out-of-this-world story.
Store windows aren't the only translation into fashion the film has inspired though. If you need just a tad more reality during your daily excursions down the rabbit hole of ordinary life, we've rounded up a selection of dresses and accessories that capture a sense of wonder.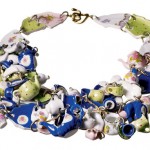 Coming next spring, three of the world's fanciest dreamers will come together to bring us a collaboration that is worth diving through a rabbit hole for: for Disney forthcoming digital 3-D remake of Alice in Wonderland, directed by Tim Burton (Edward Scissorhead, Corpse Bride, etc), the fantasy castle has tapped jewelry designer Tom Binns, known […]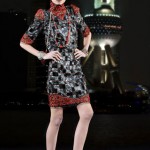 Fashion's umber-active mind, Karl Lagerfeld, took us on a fantastically imaginative (and financially sound) turn in Shanghai last week with his latest Chanel pre-fall 2010 collection. With the iconic Shanghai TV-tower as the backdrop, Lagerfeld presented a stunning collection rich with Shinto-Franco sartorial cultural exchanges. Based on a fictional dream of Coco Chanel time-traveling through […]