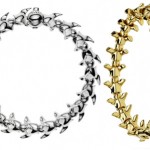 What is with body parts suddenly becoming appropriate to wear as fashion? First Lady Gaga turns the world on to wearing raw meat, and now apparently bone-inspired pieces are being sold as accessories.
Lacoste, the company famous for its crocodile emblazoned tennis shirts, announced the upcoming release of a new jewelry collection. Since its start in France in 1933, the company has expanded on their sporty beginnings to offer a wider range of high-end sportswear for men, women and children – and now, jewelry.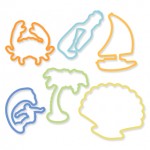 Pokemon cards, gel pens, and Tamagachi. All three of these things were big fads among kids and preteens during the mid-90s to early-2000s and solidified the young demographic as a marketable audience. But the latest fad among current kids and preteens are Silly Bandz.
Perhaps most remarkable about the bands are their wide appeal across multiple generations.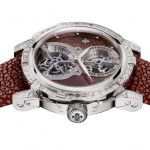 Swiss watchmaker Louis Moinet has taken wristwatches to a prehistoric era with his release of 12 limited-edition watches complete with dinosaur bone fragments. The stylish watches are deep burgundy with silver hardware and retail for $300,000 a piece. According to the company, the bones were excavated in western North America and authenticated by a geologist. […]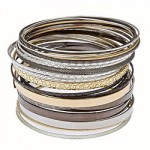 Women everywhere are doing the stacked bangle look to compliment long necklaces, hoops, and big cocktail rings. For fall, however, a great trend to implement is mixing different metals and materials into one look. This set by Blu Bijoux is composed of silver plated, gold plated and gunmetal bangles, and is an eye-catching look as […]