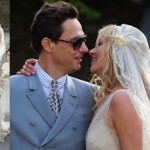 Aah, love and marriage. Sometimes they go together like a horse and carriage, and other times both fall off the wagon. This past weekend saw 2 royal weddings (well, Kate Moss is practically fashion royalty) and 4 divorces. While none of the divorcees are as cool as Jack White and Karen Elson, who held a rather civil divorce party, in at least one of the cases there will be some serious spending going on at the end of the love affair as well. Let's dive in.
You can always count on Karl Lagerfeld being direct, even if it's not the most politically correct thing to do. When asked for his comments on the appointment of Emanuelle Alt to the role of editor-in-chief of Vogue Paris, Lagerfeld answered with trademark candor.
After 10 years at the helm of Vogue Paris/French Vogue, Carine Roitfeld announced that she'll be leaving the magazine in January.
She spoke with Cathy Horyn and said "It's 10 years that I'm editor of the magazine. I think it's time to do something different."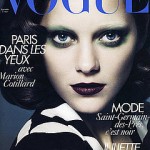 We've spent a lot of time talking about September's cover girls this year, but today we found the most shocking fall magazine cover of all. Vogue Paris' issue this year features Marion Cotillard, the first time in five years the fashion glossy has chosen a celebrity rather than a model for September.