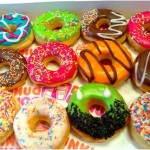 While we're still a bit partial to Free Macaron Day, National Donut Day 2010 looks like it will be a worthy competitor.
The biggest names in donuts – Krispy Kreme and Dunkin' Donuts, are only 2 of many donut makers participating in the 72-year-old event. The first Donut Day took place in 1938 and honored the women who served donuts to soldiers in World War I. Started by the Chicago Salvation Army, the fundraiser is still one of the organization's most popular events.
Read more for participating location information.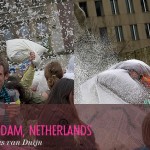 If you weren't using your pillow to sleep outside an Apple store last weekend, perhaps you were putting it to better use as part of International Pillow Fight Day. From Accra to Zurich, the feathers flew as people young and old battled it out in parks and gathering places around the world.
Started in 2008, the global opportunity to goof off is part of an "urban playground movement" that aims to get people out from in front of the television, and out into the streets having fun. Let's hope it catches on as a way to settle differences, because we've never seen more people look so happy to be in a fight.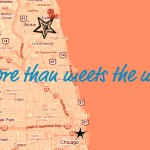 The intrepid travel writer is always looking for the next undiscovered, unknown, and –most importantly- unwritten about location. And while the jungles of South America or the deserts of Africa are likely to come to mind, the greatest unknown destination of our time is closer than we'd like to admit. Its existence has troubled academics […]