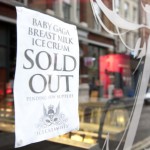 We're sure you've heard about the breast milk ice cream that one London shop has had on its menu by now, but yesterday we learned that local officials confiscated all of the supply that was on hand at the store due to health concerns. The ice cream is apparently being sent to be tested for hepatitis contamination.
This weekend Signature9 attended Diet Pepsi's Style Studio event in SoHo as part of New York Fashion week, and we have to say we were a bit disappointed with the whole thing. The night promised to include designs by Jonathan Adler, a Diet Pepsi "Skinny Bar" and most importantly a window display by Barneys' Simon Doonan, who was recently moved from being their creative director to "creative ambassador at large."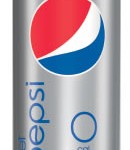 Press releases announcing the new Diet Pepsi Skinny Can, which is similar to a large Red Bull can and will hit shelves this March, were sent around last week, and blogs like Fashionista and Racked NY have been claiming that Diet Pepsi must be angling to replace Diet Coke as the fashion industry's drink of choice. They're probably right, considering the folks touting this new branding effort are tossing around words like "fashionable," "accessory" and, most importantly, "skinny," but we don't exactly see the point of trying to change the minds of a group that is notoriously hard to sway.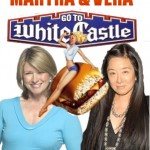 First Bacon-flavored lattes hit the market, now burger-scented candles are apparently all the rage. Even Martha Stewart and Vera Wang are getting behind them.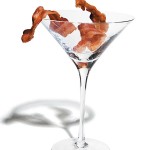 If you love bacon in the morning but want to avoid the unhealthy side effects of eating it for breakfast, you can now enjoy the bacon flavor fat free.
U.S. Starbucks stores get 70 percent of business before 2 p.m., according to USA Today, and now the coffee chain is making a move to scoop up more afternoon and evening foot traffic. Starbucks already sells food, an extensive list of coffees and a variety of other beverages, so what is left that American consumers could be craving after lunch? Answer: Alcohol.

Just reading about this little tidbit makes our mouths water. Allure Magazine reports that famous ice cream duo Ben & Jerry are in the process of creating a new flavor of the frozen goodness we all love-but this new flavor has a surprising twist.
It seems the pair are hard at work on a project to produce an anti-aging ice cream treat that is touted as "healthy" and "beneficial" in the fight to looking younger and staying healthy.
Introducing plus sizes, plans for Fashion's Night Out: news on Marc Jacobs has been rolling in and this update adds another notch on the budding lifestyle maven's belt. After the opening of his first cafe in Milan, serving up spiked hot chocolate to its elite clientele and debuting a new bookstore in downtown Manhattan called Bookmarc, it is clear that Marc Jacobs, once solely known for his fashion genius, has conquered new areas in the retail market.
New York City got a taste of fall this week, with temperatures dropping to the low seventies and gusty winds kicking up. Since Mother Nature dropped a little fall preview on us New Yorkers, Signature9 decided to give a fall preview as well with our favorite early autumn recipes, compiled from around the net. We've got crispy nuts, spicy apples and – of course – pie! Enjoy!