According to a study by the U.S. Congress Joint Economic Committee, which apparently studies these things, New York Fashion Week brings in almost $900 million in revenue for the city. Quoted in WWD, Representative Carolyn Maloney pointed out that the biannual event has more economic impact than the U.S. Open ($700 million), last year's Super […]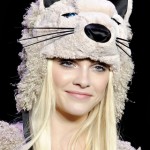 Last Wednesday at Lincoln Center, Sui sent a few models down the runway in giant cat hats. Purrfect, or one trend you won't take a scratch at?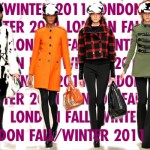 It seems that many fashion critics are still unimpressed by Burberry and still complaining that Bailey's embrace of technology has left his creativity in the dust. Looks like we need to come to the rescue again.
This weekend Signature9 attended Diet Pepsi's Style Studio event in SoHo as part of New York Fashion week, and we have to say we were a bit disappointed with the whole thing. The night promised to include designs by Jonathan Adler, a Diet Pepsi "Skinny Bar" and most importantly a window display by Barneys' Simon Doonan, who was recently moved from being their creative director to "creative ambassador at large."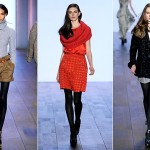 Is Lincoln Center the Right Move for Fashion Week? Although most are optimistic about the move, not everyone sees Lincoln Center as quite the right fit for such a massive showcase. Read on for our thoughts.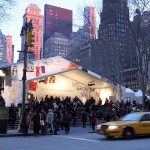 February will mark the last time Bryant Park plays host to New York's Fashion Week. In celebration, Spring/Summer 2010 will be a grand occasion. Damrosch Park in Lincoln Center will be the new home for Fashion Week and they have been making preparations to welcome the festivities. It is a sad farewell to Bryant Park, […]
Milan Fashion Week president Mario Boselli says recently that Moscow Fashion Week is quickly on its way to becoming the next Milan in terms of style and ingenuity. The best part of Moscow's fashion set, Boselli states, is that there are "many different designers going in different directions, which is a good thing — it […]
New York Mayor Michael Bloomberg has announced along with Vogue Magazine, the CFDA, and NYC & Co. that this year's wildly successful Fashion's Night Out will reprise next fall 2010. Despite an initial tepid response from some merchants, the event proved to be much more lucrative than originally hoped for, with both shopper turnout and […]
Yes, we know tradition states that Paris, London, New York, and Milan dictate the fashion world, but with the uncertainty of the future of fashion comes an opportunity for new blood to crop up and make its way into the industry. This past Friday marked the end of Seoul Fashion Week, which is organized by […]