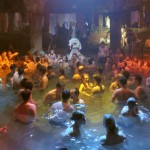 As much of the US enjoys the last part of a 3-day weekend, you may be enjoying a burger and beer, happy for the perk of days off on holidays. Perhaps you're creative with your vacation time and decided to use an off day on Tuesday to really extend things, and that's normally how workplace perks in the US unfold. In Germany, it's possible you could have gotten a company sponsored companion to perk up your weekend in a completely different way.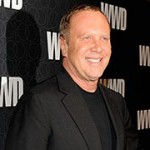 Michael Kors retail locales have been popping up left and right. His newest store will be replacing the 7,000 sq. ft. Rockefeller Center shop at 49th Street and Channel Gardens currently housing Kenneth Cole (which is slated to close its doors this April, along with eight other full-price locations). The much-sought-after space will don marble floors, wood displays and a zebra hide motif.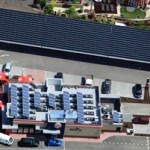 That's right. Burger King recently opened its first wind and solar powered restaurant in Germany. Unfortunately, they're still lacking on veggies.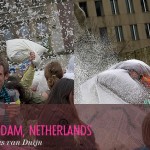 If you weren't using your pillow to sleep outside an Apple store last weekend, perhaps you were putting it to better use as part of International Pillow Fight Day. From Accra to Zurich, the feathers flew as people young and old battled it out in parks and gathering places around the world.
Started in 2008, the global opportunity to goof off is part of an "urban playground movement" that aims to get people out from in front of the television, and out into the streets having fun. Let's hope it catches on as a way to settle differences, because we've never seen more people look so happy to be in a fight.