Today, Moss is the only one of the 1990s-era supermodels who still has an active and lucrative career in modelling. According to analysis conducted by Forbes, she earned $5 million between June 2015 and June 2016, ranking her 13th amongst the 20 highest earning models in the world. This may be less than in years […]
At last weekend's other big matrimonial celebration – that would be Kate Moss and Jamie Hince's wedding, if your media browsing habits made Prince Albert and Princess Charlene's Monaco to-do second somehow – the bride wore Galliano and it got all of the fashion types talking about a possible comeback for the disgraced designer. Among that talk were rumors that John Galliano hit it off with Topshop CEO Philip Green at Moss' wedding, and talks were underway for a Topshop collection.
It's not impossible to think that the two may have greeted each other over wedding cake, but both Green and Galliano say that's as far as any discussions between the two went.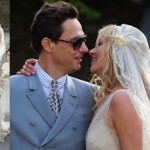 Aah, love and marriage. Sometimes they go together like a horse and carriage, and other times both fall off the wagon. This past weekend saw 2 royal weddings (well, Kate Moss is practically fashion royalty) and 4 divorces. While none of the divorcees are as cool as Jack White and Karen Elson, who held a rather civil divorce party, in at least one of the cases there will be some serious spending going on at the end of the love affair as well. Let's dive in.
If you've got grey hair but no money for a dye job, you've ever dreamed of channeling Erykah Badu, you have frequent bad hair days or you just really hate washing and or styling your hair, you can now take advantage of the latest hair trend.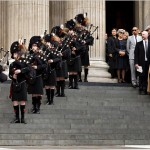 St. Paul's Cathedral in London hosted a special memorial service this morning honoring the late Lee Alexander McQueen. Less than one year after the British designer's tragic death, attendees mourned his loss to the sounds of tartan-clad Scottish bagpipers and a moving address given by Anna Wintour.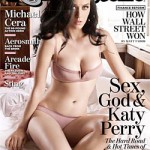 September magazine covers were revealed this week. Three noteworthy ones: Rolling Stone, British Vogue and Glamour.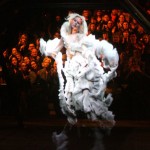 It seems Alexander McQueen's creative partner on his now infamous 2006 runway show, Baillie Walsh, has taken ideas used for that event and reworked them as central images in a current Cadbury ad campaign. The image in particular that has caused talk of legal action on behalf of the Gucci Group, who owns the Alexander McQueen brand, is that of a blonde woman in a flowing dress. For them the interpretation is too close for comfort to a hologram of Kate Moss which was shown during the aforementioned show in 2006.
After a preview of Kate Moss's new Christams collection for Topshop.com that launches tomorrow, we are wondering if we will be the only ones anxiously sitting at our computers tomorrow morning… if for nothing else to check out how much it will cost us anyway.  The collection has received mixed reviews, especially after the less than ravishing […]