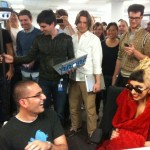 For someone whose father was worried about them getting a real job, Lady Gaga's showing dear old dad there's no cause for concern. Since reportedly going broke for the early portion of her pop star career, Lady Gaga's taken on the title of Polaroid creative director, unofficial (and unwanted) ice cream muse, and Farmville promoter among other things. Now you can add tech angel investor to the list. Someone's going to need a bigger business card.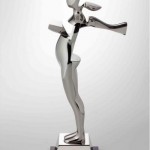 The list of 2011 CFDA Awards nominees were just announced, and there are plenty of familiar names. In brief, Lady Gaga is officially an American fashion icon, Marc Jacobs is nominated for womenswear but will be a winner even if he doesn't take that category, and Alexander Wang and Proenza Schouler have quite a few chances at going home with a trophy. The full list of nominees are…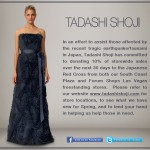 By now you've heard about the triple disaster that hit Japan; a historic 8.9 magnitude earthquake, followed by a deadly tsunami and now the possibility of a devastating nuclear meltdown.
Tech companies played a role in the moments immediately following the catastrophe, but now it's fashion's turn to step in with monetary support to help in rebuilding devastated areas and people who've lost their homes, family members and possessions to the natural disasters.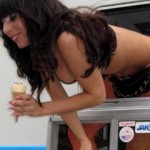 Just the other day we wrote "incorporating the name of one of the world's biggest pop stars, while good for grabbing the attention of Gaga fans via vague headlines, doesn't seem like it's all that great for creating a distinct brand identity," when posing the question of whether breast milk ice cream (named Baby Gaga) would be a trend that anyone would jump on. Seems like Lady Gaga agrees, and as of yesterday began legal proceedings against Baby Gaga makers The Icecreamists.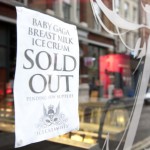 We're sure you've heard about the breast milk ice cream that one London shop has had on its menu by now, but yesterday we learned that local officials confiscated all of the supply that was on hand at the store due to health concerns. The ice cream is apparently being sent to be tested for hepatitis contamination.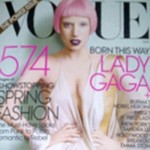 This week, Lady Gaga leaked a photo of her upcoming Vogue cover to her followers on Twitter, and E! is reporting that Vogue reps are trying desperately to get the pictures taken off the Internet, since the issue has not yet been released to newsstands.
Nudes and blushes have been a huge trend of late, and we recently discovered, floating around the blogosphere, a photo of a shoe that takes the naked look one step further. You've heard of mirrored sunglasses, right? Sao Paulo designer Andreia Chaves apparently designed shoes that are covered with mirrors – called "The Invisible Shoe" – so they blend in with their surroundings.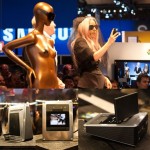 Lady Gaga is a big fan of gray. If her wigs didn't tip you off, her product demos at the 2011 Consumer Electronics Show should do it. First up is the Polaroid Grey GL30 Instant Camera, which (surprise!) takes the polaroid instant photo concept digital.
Every year on New Year's Eve tons of celebrities make it out to perform at various venues in cities around the world for the so-called biggest celebration of the year. This year, however, a few stars showed up in looks that managed to provide such a distraction that we hardly paid attention to the performances.