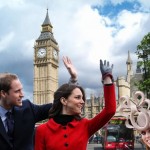 New York is easily the fashion capital of the US, and considering the size of the American consumer market, for many people that makes it one of the top fashion cities in the world. According to a list from Austin, TX based internet analysis company Global Language Monitor, that's not quite enough to make it number one though. What is enough? How about a blue blood wedding, a newly minted princess with a mostly attainable wardrobe/style, and one design house with a genius founder and brilliant successor (who also played a role in said wedding). Come on down London, you've officially been crowned as the internet's favorite fashion capital.
But is it?
In a move somewhere on par with rearranging the deck chairs as the Titanic sinks, UK Prime Minister David Cameron has floated the idea of banning people suspected of organizing or participating in the London riots from social media. Since having more police than rioters is an idea that didn't occur to anyone until four days of disorder and destruction had passed, and it's easier to blame BlackBerry.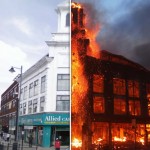 Four days after the initial incident that sparked unrest in London, there still appears to be no definitive end to the organized violence. Some blame BlackBerry BBMs and Twitter for facilitating the organization of riots and looting, but regardless of the communication tools used to communicate, London faces a bigger problem: police can't figure out how to quell outbursts of violence and stop them from spreading. That doesn't lend a lot of confidence to the city's ability to ensure safety for the 2012 Olympics.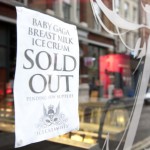 We're sure you've heard about the breast milk ice cream that one London shop has had on its menu by now, but yesterday we learned that local officials confiscated all of the supply that was on hand at the store due to health concerns. The ice cream is apparently being sent to be tested for hepatitis contamination.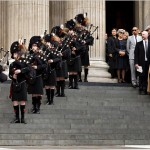 St. Paul's Cathedral in London hosted a special memorial service this morning honoring the late Lee Alexander McQueen. Less than one year after the British designer's tragic death, attendees mourned his loss to the sounds of tartan-clad Scottish bagpipers and a moving address given by Anna Wintour.
Last week, the luxury fragrance house sent five perfumed taxi cabs out into central London to serve patrons the same way any other London black taxi would with a few exceptions. Each cab smells like either the brand's Artemisia, Blenheim Bouquet, Endymion, Malabah or Orange Blossom perfume, and each one's driver is specially trained to discuss Penhaligon's fragrances and answer any questions about the brand. And Penhaligon's is not the first company to embrace the taxi as a marketing tool.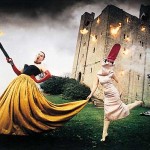 Daphne Guinness shocked fashion last month by stopping the sale of the collection from the late, iconic fashion editor Isabella Blow's wardrobe that was to be sold by the auction house Christie's. Guinness bought every piece herself to prevent the auction from even beginning. The newly announced muse for and face of Nars Cosmetics' fall campaign finally released a statement explaining her actions, how she came about her decision to stop Christie's and what she plans to do with her recently acquired fashion fortune.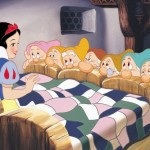 October 12, 2010 marks an important day for London's Garrick Theatre. That night marks the beginning of a five night run of Snow White. The twist is that this production's full name is Snow White and the Seven Designers.
In an effort to raise money for Dementia UK, fashion designers, interior designers and others involved in the style world have revamped the age-old tale. Instead of dwarves, Snow White will be assisted by her seven designers in order to redesign the ugly interiors of flats across London.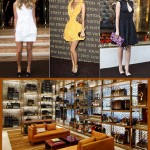 Days after opening a grand, multi-level London flagship store with a private shopping area for VIP guests, the UK's Advertising Standards Agency banned Louis Vuitton from using two of their ads on Wednesday. The agency, which investigates reports from the public, said the images mislead consumers to believe the label's products are handmade, though the bags, wallets and other accessories LV is famous for are crafted by machine.