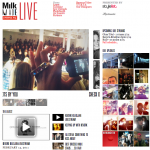 The big fashion venue news last season was IMG moving New York Fashion Week from the tents at Bryant Park to more upscale, uptown Lincoln Center. While fashion editors and bloggers were developing the playbook for navigating the new location, MAC and Milk Studios have been making their play for unofficial venue of the fashion new school.
It's not just the designers with the dressed down cool aesthetic like Alexander Wang, or rising stars like Sophie Theallet though; the open embrace of the fashion tech set is a large part of how the fashion week schedule at Milk Studio has risen to take on the tents.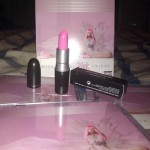 Nicki Minaj's debut album Pink Friday has been a sales success, with more than 650,000 albums sold in its first month out. The rapper's debut product collaboration hasn't been a slacker either.
Sold only on four Fridays starting with Black Friday, Minaj collaborated with MAC on a bright pink lipstick called Pink Friday that's completely sold out.
Lady Gaga and Cyndi Lauper repped the MAC Cosmetics Viva Glam line this year, and the makeup company knows a good thing when it sees it. According to People StyleWatch, 2010's campaign was MAC's most successful to date. While the Gaga/Lauper pairing makes a lot of sense artistically, with the former's wacky fashion choices getting a story nearly every time she changes her clothes [guilty], it's clear who was more influential in the commercial success of the project.
If you think fashion bloggers have little to no power or clout in the industry, get this: one fashion blogger created enough buzz to cause the cancellation of M.A.C.'s expected Rodarte makeup line, which was to be launched September 15.
A rumor that Lady Gaga signed on with Coty Inc. to create a perfume began in the U.K. and spread through fashion media outlets this week, but now the fragrance company's marketing department has said it is not true.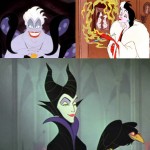 MAC announced it took inspiration from four Disney devils for its Venomous Villains collection, and that is just about all they are revealing about the line to debut late this September in all MAC locations. Lipstick, lip gloss, powder and blushes priced between $12 and $29.50 will be featured in this limited edition set, so we're thinking the pink complexion of the Queen of Hearts from Alice in Wonderland may have inspired blushes to appear alongside products thought of with the more obvious muse, Cruella De Vil.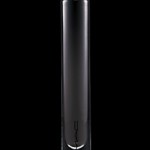 We are always looking for great smelling fragrances that portray different personalities and break the mold from what everyone will be buying at Sephora. MAC's Asphalt Flower from the Trend 2009 collection has a smell all its own, and because it includes a handy rollerball applicator, it can be your best kept secret for why you […]