In a press release, YOOX founder Federico Marchetti confirmed an all-share merger which will join Net-a-Porter with the Italian luxury e-tailer. The new company will be the YOOX Net-a-Porter Group, and see Marchetti retain his title of CEO. Net-a-Porter founder Natalie Massenet will be executive chairman of the company. YOOX will continue to be listed […]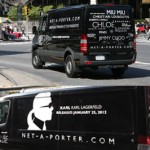 Just a few hours ago, we picked up on the report that Google is working on an Amazon Prime competitor that will try to differentiate itself by offering same day delivery from brick and mortar stores. According to a Boston Consulting Group survey of 1500 consumers, only 9 percent said same day delivery would encourage them to shop online more often.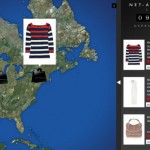 Have you ever wondered what other people are looking at while you're looking at clothes online? Okay, we haven't either, but Net-a-Porter Live does exactly that and the result is like online fashion crack.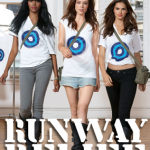 Breast cancer is an issue of vital importance among women, fashion's largest consumer group. Since 1994 Fashion Targets Breast Cancer (FTBC) has been the most successful response from the fashion community designed to raise public awareness about the importance of breast cancer research, education, screening and patient care.

Have you ever wondered why designers are showing spring and summer clothes in September or October, and winter clothes in February or March? During a livestream interview with Imran Amed of the Business of Fashion, the question was posed to Natalie Massenet of Net-a-Porter who suggested that everyone just skip a season, bring the shows directly to consumers who would be able to purchase the clothes weeks, instead of months, later and get rid of the front row in exchange for trade shows.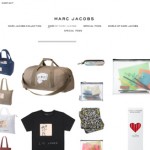 The Marc Jacobs fashion label is worth an estimated $5 million, but up to this point the brand had no e-commerce store of its own. The top American fashion designer's lack of online retail until now is actually more interesting than the recent news that marcjacobs.com will begin selling clothes this September. In any other industry, just now breaking into e-commerce would be totally unheard of, ironic, inexcusable and perplexing.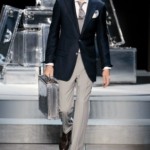 We just talked about Net-a-Porter as an example of a wildly successful online only retailer, and a heavy hint to retailers who are slow to embrace e-commerce years after it's proven successful. Now, on the day of their 10th anniversary comes word that style savvy men will be able to enjoy the same combination of editorial and online shopping that has distracted millions of women around the world for a decade.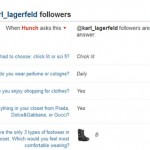 If you're a technophile, you already know that Hunch is Flickr co-founder Caterina Fake's latest company, and that it makes pretty accurate decisions about what you're like based on how you answer a few questions. Hunch's latest time killing, but fun, service is a Twitter followers analyzer that makes educated guesses about the people following you.
@Karl_Lagerfeld followers: prefer smaller portions of food that are arranged well, have dated or hooked up with someone they met online, choose the New York Times over the Wall Street Journal or USA Today as their free hotel paper of choice, can make reservations in 2 or 3 languages (only at restaurants that don't overfeed you, of course), aren't reading Vogue for the articles, think All-You-Can-Eat buffets are gross, are Mac people, and like celebrity gossip, reality TV and awards shows among other things.
In terms of volume online, Macy's attracts more visitors earning $100,000+ than higher end department stores Nordstrom and Neiman Marcus combined (Anna Wintour's Fashion's Night Out appearance at Macy's last year suddenly makes sense).  Though they probably aren't the first name you'd associate with designer fashion, there are a massive number of people who match […]