Rumors ran rampant this summer about an impending Lady Gaga fragrance deal with Coty Inc. Back in July, a Coty representative told WWD the rumors were completely false, and that he had heard "nothing of this project." Well, surprise surprise. This week WWD reported that the world's no. 1 pop star has in fact signed a deal with Coty to create a line of signature Lady Gaga fragrances.
Lacoste, the company famous for its crocodile emblazoned tennis shirts, announced the upcoming release of a new jewelry collection. Since its start in France in 1933, the company has expanded on their sporty beginnings to offer a wider range of high-end sportswear for men, women and children – and now, jewelry.
A rumor that Lady Gaga signed on with Coty Inc. to create a perfume began in the U.K. and spread through fashion media outlets this week, but now the fragrance company's marketing department has said it is not true.
How many people actually want to emulate the messy, grunge look Amy is often seen in? Sure, there may be some fashion sense lurking beneath the surface, but the "this shirt hasn't been washed in months!" look is one we could do without. But Fred Perry Managing Director, John Flynn has higher hopes. "Amy's sense of style and attitude to music and fashion pervades through this collaboration. We hope her fans and our fans will feel the same way."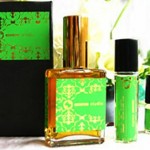 Hanukkah Cannelle is a new fragrance designed specifically to embrace the essence of Hanukkah. The special Holiday 2009 fragrance by Dawn Spencer Hurwitz, founder of Les Perfumes Beaux Arts, is a limited edition scent accented by Dawn's favorite holiday pastries boasting notes of apple, cinnamon, nuts and honey, adding "Of course, I've taken some artistic liberties to create […]