Marc Jacobs' business partner, Robert Duffy, seems to be loose-lipped when it comes to tweeting about the designer and his latest ventures. Recently Duffy tweeted about plans for a plus sized line.
We love the idea, and think it's about time we saw a plus size collection from the designer, although we wonder how Marc feels about his partner letting the news slip on twitter.
As mainstream designers embrace plus size fashion, journalists debate its existence, and plus size models grace some of fashion's most prominent magazines, there were and have always been the few, the proud, the plus: the plus size designers who have long delivered fashion for the curvy gal before the rest.
One of those few is designer Yuliya Raquel, the designer behind Igigi. Raquel was a pre-med student before recognizing her personal and professional calling in plus size fashion.
Beyond offering choices to an under-served demographic, Yuliya Raquel also pulls of two feats which have challenged many designers: most items are priced under $200, and the clothes are designed and produced in San Francisco.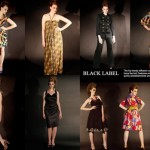 If you were to read the latest magazines, newspapers, and fashion blogs, it would seem as if plus size and fashion have only recently met. With the latest coverage and inclusion of plus size models in high fashion editorials, eyes have only recently opened to the fact that curves have the potential to be chic, edgy, and fashionable. However, there have been quite a few designers, both mainstream and niche who have stayed ahead of the curve, in dressing and designing for this oft overlooked, fashion starved, plus size woman.