This week, The Cut posted a photo of a giant, 10-foot long authentic leather shoe made out of bull hide that is actually an electric car able to hold two people.
Nudes and blushes have been a huge trend of late, and we recently discovered, floating around the blogosphere, a photo of a shoe that takes the naked look one step further. You've heard of mirrored sunglasses, right? Sao Paulo designer Andreia Chaves apparently designed shoes that are covered with mirrors – called "The Invisible Shoe" – so they blend in with their surroundings.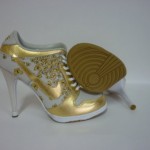 Just when we thought Teva Stilettos were the craziest footwear we'd ever seen, we find high-heeled Nike Dunks and Jordans floating around the Internet.
Every year on New Year's Eve tons of celebrities make it out to perform at various venues in cities around the world for the so-called biggest celebration of the year. This year, however, a few stars showed up in looks that managed to provide such a distraction that we hardly paid attention to the performances.
The past 12 months included fabulous trends, dazzling red carpet moments and stunning product innovation, but 2010 was also a great year for the weird. We've featured tons of off-beat trends and odd products in our weekly If Everyone Jumped posts this year, including $3,000 T-shirts from Valentino, glow-in-the-dark sunglasses and candles that smell like fast food. With this the last week of 2010, here is a recap of our top five favorites.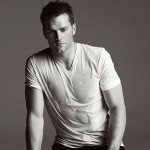 On Wednesday, news spread that the famously handsome quarterback and husband to Supermodel Gisele Bündchen agreed to a deal with Ugg Australia that will make him the face of the brand's men's division, marking the first time Ugg has specifically pushed men's products.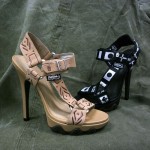 The latest WTF product on the market is going to take you back quite a few years, and not in a thank-goodness-ballet-flats-are-in-again kind of way. Anyone remember Teva sandals? (Read: Are you trying not to remember owning Teva sandals?)

Recent sales figures suggest that fashion shoes are giving diamonds a run for their money, but jewelry remains the luxury shopper's best friend.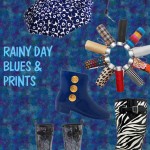 It has been a rainy fall so far in New York City, with even some tornado warnings issued this past September. All of the precipitation has made for a soggy work commute a few times a week the past month, and sitting in the office with wet clothes on all day is no fun. Especially if the AC has not been turned off yet. How to keep yourself dry? With chic umbrellas and rain boots of course! Check out the options we found scattered about the Internet.