Starbucks is rolling out coconut milk as the chain's first non-soy dairy alternative for caffeine fiends nationwide…the Paleo-friendly, vegan-friendly, lactose-free, many-birds-with-one-stone option launches February 17 and is available for hot or cold drinks.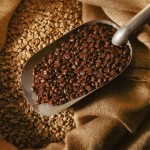 Not a football fan? Need help staying awake through the game while waiting on the commercials? Well in addition to this being the weekend two teams battle it out for the title of NFL champions, it also seems to be the weekend of free coffee promotions.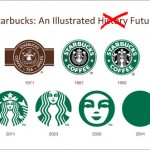 It's early enough into the new year that you probably remember the horrific MS Paint meets clip art Gap logo redesign. After a slew of negative feedback on the new design, the company (wisely) decided that they'd fixed something that wasn't broken and reverted to the old logo. After releasing a new, wordless logo Starbucks is facing a similar bit of online outrage, but don't look for Starbucks to pull a Gap-like "just kidding!" and dump the new logo.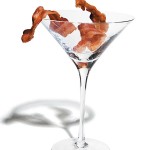 If you love bacon in the morning but want to avoid the unhealthy side effects of eating it for breakfast, you can now enjoy the bacon flavor fat free.
U.S. Starbucks stores get 70 percent of business before 2 p.m., according to USA Today, and now the coffee chain is making a move to scoop up more afternoon and evening foot traffic. Starbucks already sells food, an extensive list of coffees and a variety of other beverages, so what is left that American consumers could be craving after lunch? Answer: Alcohol.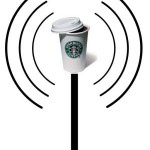 Starting next month Starbucks will join the likes of Panera and McDonald's as a chain that offers free WiFi in all locations. Those who have AT&T may be confused, thinking they already had free WiFi in Starbucks, which those customers did, now it's been extended to everyone else.
Now anyone can enjoy free, unlimited WiFi at Starbucks with just one click rather than having to pay or enter AT&T or Starbucks Card information to get just two hours of free time. Sounds like a good deal, and can possibly get Starbucks more money if people stay longer and buy more.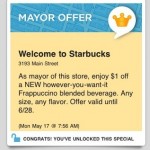 It seems that Starbucks is really going all in with location focused social networks. It will probably be a few months before results of the programs are announced, but it serves as great publicity for both Starbucks and the networks. As the networks start battling it out to be the mobile check-in app of choice there's bound to be some overlap, but it will be interesting to see how they differentiate themselves going forward.