Philippines-born and Texas-raised, Nim Botor, a self-taught designer, uses his eye for style, drape and fit to create stunning (and sometimes futuristic) garments for today's fashionable, modern women (in other words, you).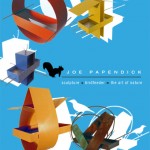 Good design is for the birds. Literally, Joe Papendick turns his design focus to our feather friends, and modern, sculptural pieces designed to catch not only the human eye, but hopefully a bird's eye view as well.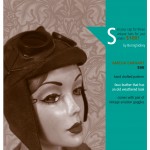 Her label may be called Boring Sidney, but Belle, a milliner based out of the Seattle area, produces headpieces that are sure to excite any vintage fan. Drawing inspiration from everyone from Jeanne Lanvin to the Women's Army Corp, the headpieces from the 10-year-old label are instant classics. View 5 of our favorites under $100.
Big, bold necklaces never really go away when it comes to on trend accessories. If the usual mixed metals and stones feel a bit heavy for summer, Maria João Ribeiro offers bright colors and bold shapes with a bit of lightness. Perhaps reflective of Portugal's warmer weather, the necklaces are perfect to take along if you like to make statements with your jewelry, but aren't ready to be weighed down just yet.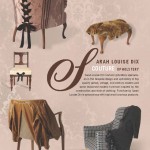 For unique, quirky, and one of a kind home decor, look no further than Sarah Louise Dix Couture Upholstery. Chairs are reupholstered with corsets and tailored details that will give your closet favorites a bit of living room competition.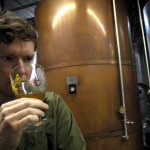 It takes a lot of guts to take on the big three. You know the ones – they have enough dough to advertise during the Superbowl, they're owned by foreign mega conglomerates, and one of them even has its own line of amusement parks. Yup, we're talking beer – and who could possibly be so […]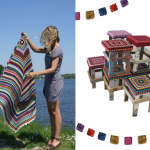 It's not often that a stool grabs our attention, but scrolling through San Fran-based blog sfgirlbythebay, we found some stunning stools that instantly stood out from the crowd. Dutch "handy woman" and writer of the blog Wood & Wool Stool, Ingrid Jansen has been creating her own brand of stools since 2008 – and they're definitely in […]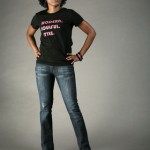 "Modern. Soulful. Style" is the tag line for AphroChic, the blog and online shop of designer Jeanine Hays, and we couldn't agree more. Hays began blogging about design a few years ago, and decided to take the plunge and launch her own company this year. And we're very glad she did - both her clean-cut, vibrant pillows and her fun […]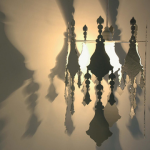 Nada se leva is a dynamic duo from Brazil whose streamlined, Baroque-inspired designs are garnering a lot of attention. Recently featured by the blog 2Modern Design Talk and chosen as one of the 100 "most important young designers from around the world" by &fork, Nada se leva is an exciting design team that creates fresh, […]