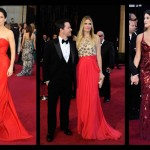 So now that you know who won the actual Oscars last night – congrats, Natalie! – let's discuss who won on the red carpet. There aren't any official awards for style, but if we had to submit a choice for the fashion Oscars (c'mon MPAA, make it happen!) here are our picks for each category.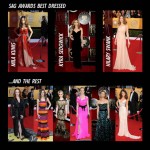 This past weekend, Hollywood's biggest stars trotted out to the Screen Actors Guild (SAG) Awards, and since this is one of the most important red carpet events of the year, here is a list of the best dre… oh wait, nobody cares who wore what to the SAG Awards.
Unlike online influence, red carpet influence is one of those things that's difficult to measure. The best (and worst) dressed awards are often handed out without rhyme or reason. Supermarket tabloids and gossip columnists usually play it safe and give best dressed to stars who go with a cookie cutter gown, while worst dressed goes to anyone who takes a fashion risk. Fashion blogs normally go the other way, praising those who aren't afraid to look more runway than red carpet, and applying a snooze label to those who play it too safe.
Since there's no measurable way to tally best and worst dressed, we'll just add our favorites to the mix.
Today, Gucci Group head Robert Polet announced {AP via Google News} that Alexander McQueen, the brand, would continue after last week's suicide of namesake designer Lee Alexander McQueen. Polet described McQueen the man as "irreplaceable," a sentiment many would agree with. The prospect of continuing a label after a visionary founder unexpectedly leaves the company […]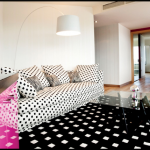 In an attempt to establish a signature style that can encapsulate the everyday (and not so everyday) lives of men and women, fashion designers create a lot more than clothes these days. So it's no surprise that, for the past decade, the epitome of a designer's design aesthetic can be seen not on a runway, but in […]
Move over, punk rockers: the fashion world is stealing your safety pin stash. Continuing in the same vein of the past seasons'Â aggressive heavy-metal/warrior trends, designers like Vena Cava and style-savvy people like blogger Pelayo Diaz, shown left, have turned to the humble safety pin for more than pure utilitarianism. Designer versions of safety-pin-studded duds are […]
In response to the still-lagging world economy and the drop in the luxury goods market, Versace has announced its plans to guillotine a quarter of its international work force in order to cut costs and pave the way for company restructuring. Although companies backed by luxury mega-giant LVMH are doing relatively well thanks to the […]