You can always count on Karl Lagerfeld being direct, even if it's not the most politically correct thing to do. When asked for his comments on the appointment of Emanuelle Alt to the role of editor-in-chief of Vogue Paris, Lagerfeld answered with trademark candor.
After 10 years at the helm of Vogue Paris/French Vogue, Carine Roitfeld announced that she'll be leaving the magazine in January.
She spoke with Cathy Horyn and said "It's 10 years that I'm editor of the magazine. I think it's time to do something different."
Style.com's Year in Style mash-up of all that was seen and heard from the fashion world in 2010 is out, and it includes everything from personal style scene-stealers like Lady Gaga and Anna Dello Russo to digital fashion endeavors and movers and shakers like Terry Richardson and James Franco. The fashion Web site's review is pretty complete, but we would like to put our two cents in on what was important this year in fashion.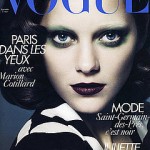 We've spent a lot of time talking about September's cover girls this year, but today we found the most shocking fall magazine cover of all. Vogue Paris' issue this year features Marion Cotillard, the first time in five years the fashion glossy has chosen a celebrity rather than a model for September.
We noticed a few days ago that Vogue's most recent edition is making a statement seemingly at the opposite end of the one made by Vogue Italia's historic edition featuring all black models. We aren't sure if the shoot was merely an ill-planned bid for publicity in an era where print readership is in rapid […]