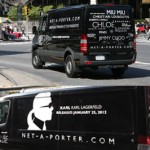 Just a few hours ago, we picked up on the report that Google is working on an Amazon Prime competitor that will try to differentiate itself by offering same day delivery from brick and mortar stores. According to a Boston Consulting Group survey of 1500 consumers, only 9 percent said same day delivery would encourage them to shop online more often.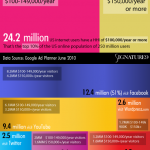 You may have heard that Facebook recently hit 500 million members. According to Google AdPlanner, in June the popular social network received 540 million unique visitors, so there's some evidence that the site's open graph initiative is working in expanding the reach of the site even beyond its massive user base.
But what's really interesting is how Facebook has penetrated the wealthy web. First, a little background on why we focus on internet trends among $100,000+ households. The only site which reaches more wealthy US users is Yahoo, who reaches 56% of the $100k+ online population, compared to Facebook's 51% (Google may reach more, though they don't include themselves in their AdPlanner stats, so it's difficult to pinpoint exact numbers).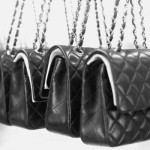 According to the Madison Avenue Spy, now may be the time to bag a relative bargain on the Chanel 2.55 you've been eyeing. August is expected to bring a 20% increase in prices as certain luxury retailers begin to show signs of bouncing back from the difficult times that hit many people around the world.
Still, is now the best time to hike prices – particularly at a double digit rate?
In terms of volume online, Macy's attracts more visitors earning $100,000+ than higher end department stores Nordstrom and Neiman Marcus combined (Anna Wintour's Fashion's Night Out appearance at Macy's last year suddenly makes sense).  Though they probably aren't the first name you'd associate with designer fashion, there are a massive number of people who match […]